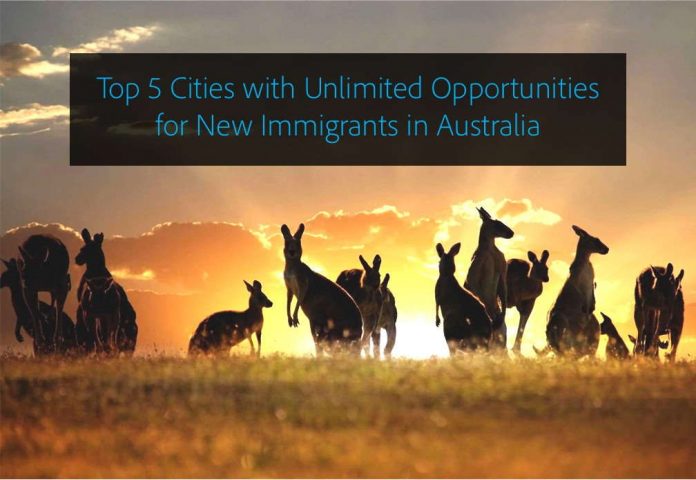 Australia is one of the most chosen countries for education purposes amid Indian students. The friendly, laid-back nature of the country attracts many international students. Along with the high standard of living the country also possesses an admirable ambiance. The country's beautiful beaches, efficient public services and its excellent cities, many of which have been ranked amongst the best cities in the world to live, are splendid.
Given below are top five cities with unlimited opportunities for new immigrants in Australia:
Adelaide is more like a big country town than a bustling metropolis and is one of the most admired cities of Australia for immigrants. The cost of living in the city is low and accommodation is reasonably priced. Known for its Mediterranean climate, the city combines a hassle-free lifestyle and desirable weather, which draws a lot of new migrants. The career related opportunities for migrants are vast and the city expects to need 5000 migrants every year in various vocations including manufacturing, public administration, education, and healthcare.
Brisbane, the third largest city of Australia, swanks warmer temperatures than cities like Sydney and Melbourne, giving you an escape from Sydney's frosty temperatures and Melbourne's notorious picky weather. Brisbane is a major urban hub but harbors a relaxed and composed life. The city offers job opportunities under several vocations including hospitality, health and tourism as it has many industries of the mentioned vocations.
Home to the parliament, Canberra, is the capital city of Australia. The city is located in the Australian Capital Territory (ACT) and is the smallest city with a population of only 373,000 people. It receives many migrants with work-visa at its doorsteps as the city boasts lower unemployment rates and high income.Canberra is an ideal location for immigrants due to its commendable infrastructure and imposing buildings.
The cultural and sporting capital of Australia, Melbourne, is the second largest city of Australia. The four million people residing in the city are legitimate lovers of both arts and sports. The city is also well known for its night life and finest dining. Melbourne is one of the most livable cities in the world from economist's point of views. The weather changes in Melbourne are expectant and the city is also known for having "four weathers in a day". Melbourne too like Canberra has low unemployment rates and hosts many industries including that of aviation, education, information and communication, building and construction, nursing and healthcare and finance. There are excellent career advancements in the city.
From the sands of Bondi Beach to the sights of its famous harbor, Sydney is a city that's famous all around the world. Known for its scenic beauty and social diversity, Sydney is Australia's largest and oldest city. Immigrants with families prefer to settle in city as it has many suburbs that are very friendly. In the sector of tourism, financial services, IT and education, the city offers first-rate job scenarios for accomplished workers.
Originally posted 2018-04-20 17:19:57.