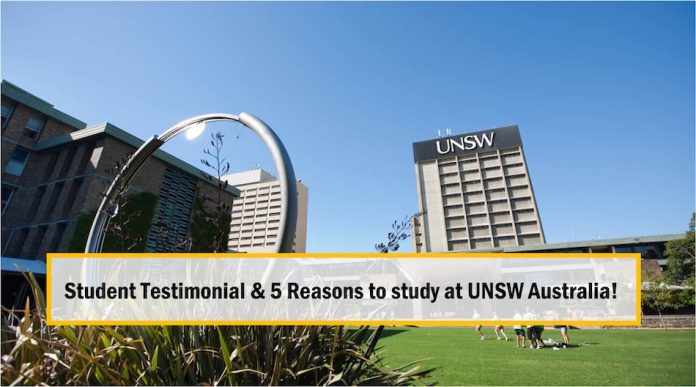 University of New South Wales, located in the Sydney suburb of Kensington, is a research based public university. Ayushi studied at UNSW and has recently finished her degree in B.Sc. Petroleum Engineering and Statistics. She shared following things about UNSW:
Social aspect
Asian students cover a significant part of the population in University of New South Wales, but there are students from all parts of the world. Students are buoyant and the social outlook on campus is excellent. Working late night is prevalent among students and many students re indulged in part time jobs to support themselves.
UNSW hosts a lot of societies ranging from faculty clubs (Business Society, Actuarial Society, Mathematics Society, Engineering Society etc.) and career related clubs (UNIT, UCC, ECS, etc.) to numerous fun related clubs such as AnimeUNSW, Kpop Society, D2MG, etc.these societies and clubs are an amazing way to interact with people, make connections that lasta forever.
There are many eateries available on campus serving all kinds of food (Mexican, Thai, Chinese, Indian, Malaysian, Vietnamese etc.) there are numerous other cafes which serve great coffee.
Politics at UNSW is not much astounding and campus life is separated from political hustle. In comparison to other universities, less great impact of Arc board and SRC student elections is on the campus life.
Campus
The university campus of UNSW is quite large and houses a lot of 7-8 storied buildings. The campus has some greenery sites such as village green, village lawn, physics lawn, naked lady lawn, globe lawn, library lawn.
Faculties
Competition at UNSW is tough and passing isn't easy. The academic norms are strict and unless you study efficiently you cannot expect good grades. The faculty is good and hard working and spends significant time in and out of the classroom. They faculty of UNSW are well regarded and quality in terms of presentation and delivery is commendable. The practical approach of teaching is another factor that increases the quality of education at UNSW. The teachers are also available on email giving heaps of support to students. Lecture halls are large and impersonal. Research labs and libraries are well equipped and digitalized. Occasional educational tours and guest lectures by external lecturers are also conducted.
Administration
The administration at UNSW is smooth and hustles free. The course enrollment, fee payment adding details, deferring payment using HECS, course administration, receiving results are automated and can be done using MyUnsw online portal. The help from admin office runs even on phone and email and the officers are willing to get your needs met.
Job opportunities
There is a job board named UNSW Careers and Employment where many companies come to hire fresh professionals. The university is credited for having highest employment rate and produces most millionaires in the whole of Australia.
Originally posted 2022-09-03 04:20:30.