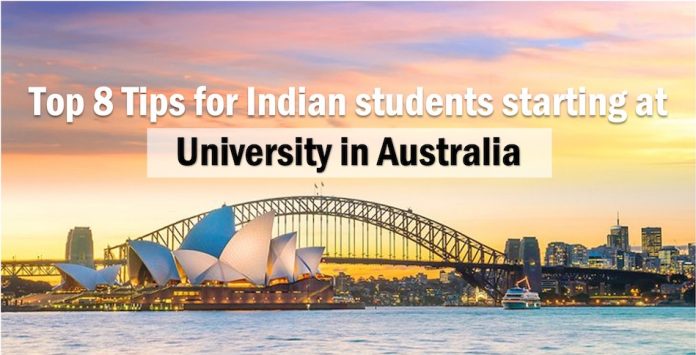 The world's largest island, Australia, is situated in the Indian and Pacific Ocean and is sited as one of the most preferred destinations for Indian students. It is not just a country but also a continent. Australia houses five of the world's best thirty cities and Australian standards of living are considered one of the best in the world.
Studying overseas not only ensures high quality education, better job prospects and high standard of living but also enhanced personality and overall development. It's not just about writing assignments and attending classes but also getting out of your comfort zone making new friends and experiencing what you have never before.
Given below are top 8 tips for Indian students about to join a university in Australia:
1. Join a club
O-weeks or orientation weeks are planned by universities in Australia, these week help students get habituated with the university. Numerous activities are organized to get students accustomed to the university campus and also with their peers. Buddy programs are also organized to initiate interaction between local and international students. All universities have many students' organization, clubs and societies. While some of them are courses, languages or sports based, others are just a bunch of people sharing common interests.
Join any of these university clubs or groups to get better exposure and to make friends.
2. Don't live with students from your own country
If you end up sharing your accommodation with international students belonging to same country as yours, you'll miss the opportunity to speak fluently in English. Not learning to speak fluent English will make your day-to-day chores tough.
3. Accommodation
Choose accommodation that suits your budget. Generally shared accommodations are found to be cheaper. Try finding your accommodation a few kilometers away from the university campus to get cheaper rates. Look out at gumtree or your university portal.
4. Seek help
Professors and teachers understand that many students come from non-English speaking countries and are always willing to help. Hence, don't hesitate to ask questions or request your professors for help.
5. Prioritize studies
Many students start working for long hours and thus their academic results fall. Prioritize study over money. It is true that it is important to earn money to support yourself, but not at your studies' stake. Remember what your actual aim is.
6. Beat homesickness
Students staying with their family find it really difficult to stay all alone suddenly. Whether moving to a different city in your own country or in a different country, homesickness is very natural. There can be a lot of adjustments that you'll need to make when you move out of your comfort zone. Don't get discouraged and try to engage yourself innumerous other things. Remember, Australia has a lot to offer.
7. Find a part time job
It's important to work part time to sustain yourself. Finding a decent job is difficult for international students. People tend to exploit the students by giving them less wage then they actually deserve. Don't settle for fewer wages instead do some courses like age care/child care/security and get a job at higher rates per hour.
8. Don't trust people easily
This is true for any part of the world you go. Do not trust people easily and keep an eye for everyone around you. Don't get tricked by people and use your brains.
Originally posted 2022-09-04 08:55:09.