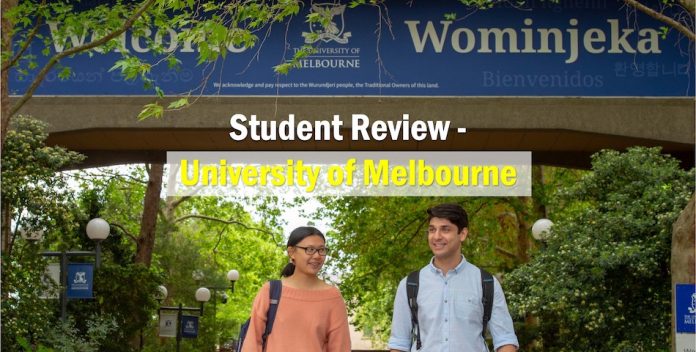 Located in Melbourne is Australia's number one university, University of Melbourne. University of Melbourne is considered as world leader in education, teaching and research excellence. Myriad of coursework and research programs are offered by the university.
Gaurav Gupta attended University of Melbourne as an international student and graduated in Science in 2017. He availed EdNxt Study Abroad's Australian Education mentorship and guidance and was engaged with us throughout his course for timely support and career advice.
He shared the following info about the University of Melbourne:
Pros:
The friendly laid-back nature of professors and their excellence and grip on their subjects makes learning at University of Melbourne a great experience.
Libraries at University of Melbourne are accessible and full of all kind of books and digital contents. Bounty of knowledge and loads of resources are at the student's disposal. Separate libraries are there for each faculty and the facilities provided are top-notch. In addition, there are career advice center, a career portal, counseling facilities and other services to help students.
University life is comfortable with all amenities provided such as computers, Internet, lockers, buildings, software, study desks etc.
Located in the middle of the city, the beautiful campus is well connected to other parts of the city.
Students from all parts of the world come at the University of Melbourne to study. Hence, great exposure is provided to students. Students get to know about different cultures all around the globe. Students are smart yet less competitive.
University students' organizations and clubs are interesting and a great way to interact with students of different backgrounds and cultures.
University of Melbourne offers great students exchange programs. These programs make the world's finest universities accessible to students.
Gaurav also studied at Cambridge University and found that lecturers are more helpful and accessible there as compared to University of Melbourne. He shared following disadvantages of the university:
Cons:
The university is very pricey for international students.
Scholarships and fee remittance options are hardly available.
Getting jobs for international students become extremely tough. Companies often prefer students with Permanent Residency or citizenship and the other companies that do offer jobs to international students are very tough to get into especially for the students belonging to non-IT/CS background.
Social life at University of Melbourne is almost none. Students are generally engrossed in assignments almost all the time and hence there is sparsely any time to spare.
Lecturers are more helpful in American universities for networking and job hunting.
The university of Melbourne becomes a little overwhelming for undergraduates but for research and PhD it is one among the finest universities of Australia.
Originally posted 2022-09-04 04:17:12.