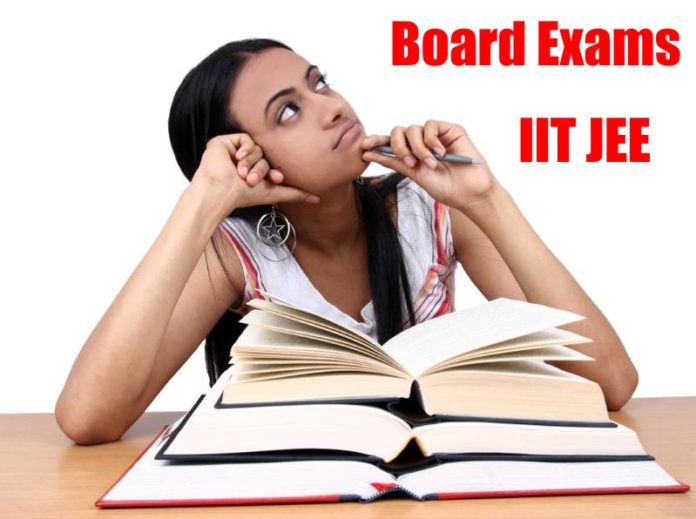 The term has almost ended and the haunting exam days are back. But who has the slightest idea of the fear of a 12th class student. Juggling between the CBSE board syllabus and the JEE main syllabus the students often tend to lose the equilibrium and the idea of qualitative preparation. Both the examinations are paramount hence the preparations should be well handled. So, here we bring to you few ways  on how to ease your way through this tough time without losing your calm.
Read below and things will seem easier in a few minutes. Let the magic begin!
Ok! So first of all let us know the features of the two examinations so that we are well aware of differences.
BOARD EXAMINATIONS
Questions asked are descriptive
The syllabus is confined to the 12th class course only
The difficulty level is moderate.
There is no negative marking for incorrect answers
JEE MAIN
Questions asked are Objective
The syllabus is 11th and 12th class syllabus
The difficulty level is high
There is negative marking for every incorrect answer
Now that you know the power of your opponents tackling them would be a bit easier. Here you go!
1
BE THOROUGH WITH YOUR SYLLABUS
It is absolutely vital that you know what topics you have to cover for the examination. For the board examinations the NCERT books are considered the best guide for both preparations as well as knowing the syllabus. On the other hand for JEE main you have to study the entire 11th and 12th class syllabus in detail. Once you know what to study for what you are half sorted for your preparations.
Yes, you got it right. Once you get full knowledge about your syllabus divide the topics and prepare well. Once you distribute your syllabus in parts it will be very much easier for you to study.
Making a timetable is perhaps the best way for maintaining your study routine. Divide your syllabus and allot specific timings per day for a subject. Since JEE Main also consists of 11th standard syllabus, make some time in the evening or morning for the topics related to 11th standard. Timetables will help you stay on track to complete the syllabus. This will clear confusion , long hours of studying the same subject also helps in maintaining a much comprehensible perspective.
Set achievable targets so that you cover appropriate fraction of syllabus daily. Also at the end you are left with days to revise your syllabus. The main focus should be on completing 12th standard syllabus for the board examinations. You can complete the 11th standard syllabus well before time or after the board exams is conducted.
No matter how much you study or learn , if you are not revising all of your efforts will go in vain. You can revise the 11th standard syllabus after the boards but do not sideline the class 12th syllabus. After boards you might forget what you studied in a hurry to complete and revise class 11th syllabus but remember class 12th is also of equal importance.
Previous year question papers are of the utmost importance! This will aware you of the questions that have been asked frequently and might come in the future too, the distribution of marks according to the topic, time management and many other things which will give your preparation an edge.. This applies to both board exams and JEE main.
Multiple Choice Questions will be present in the JEE Main examination. Solving MCQ's per day will allow you revise constantly will also providing a base for the extensive descriptive answers of class 12th board examinations. Keep solving a few MCQ questions every day for better preparation.
For every struggle in life you come across, only these two things will give you success. Nothing comes easy and everything is a result of hard work and pure dedication. But this does not mean that you miss out on leisure in your life. Keeping a relaxed mind is also very important. Do things which make you happy , listen to your favorite songs etc.
9
NOTES FOR QUICK REVISION
You won't open books and go through every page to revise a particular topic therefore for this you must make notes which are easier to grasp and to the point so that at the time of revision before the exam you don't land up all confused searching for topics.
Regular breaks will prevent chaos in your mind. This will help in retaining things you have studied for a longer time. Your timetable must include breaks to give you time to absorb what you have learned.
To summarize, your hard work will count, your effort will count and definitely lead you towards success. So, Pull up your socks and leave no stone un-turned! ALL THE BEST.
Originally posted 2017-07-10 14:38:28.