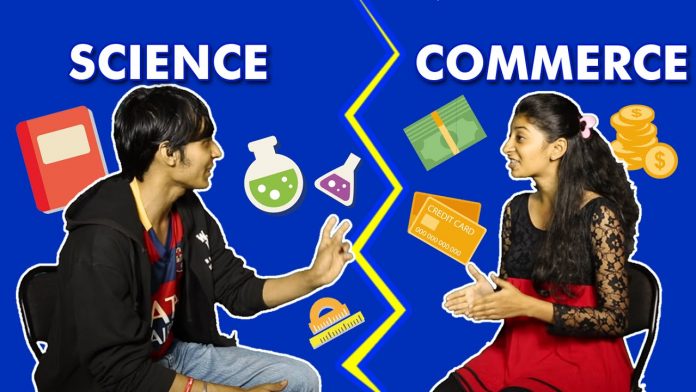 This issue has been going on for a very long time! Students of class 10 are not only worried about their board percentage, but are also confused about the impending decision of selecting subjects/stream of study for class 11 onward. Since their entire career depends upon the selected subjects and the percentage obtained, it is very important to make a right choice. It is this time when everyone around us start giving their opinion, that science is good as it has better career options or commerce would be easier for you and so on.
Such opinions may put you in great dilemma or may lead you to make a wrong decision.
So here we are to help you to figure out which subject would be suitable for your career.
Science or Commerce which has better career prospects?
When you ask this question to anyone around you, 75% people will say, science. They may justify it by saying, "only the student of science background can have better career option." The other 25 % who go for commerce will say, "it is easier, hence you must go for it."
However, the above judgments are far from true!
The reality is both science and commerce are good streams and open several doors for a bright career. To help you make a wise decision, we have compared both science and commerce on various parameters like – career scope, curriculum, eligibility and options of higher study.
1. Career Scope – Science vs. Commerce
Science
Science students have a wider door open in the fields of both engineering as well as medical. Those who believe they have a technical mind and are comfortable with maths and science subjects, may opt for science stream.
After studying science, you may become an engineer or complete graduation in science stream. Post your studies you may have good opportunities in the IT industry, manufacturing, civil and other technical fields.
If you opt for science with biology, then the entire medical industry opens up for you.
Commerce
Commerce puts brakes on higher studies and jobs related to science and technical aspects. Commerce students on the other hand have opportunities in trade, accounting and finance, business as well as management.
Commerce is less stressful in terms of hours spent in colleges/studies, while science students spends more time if one takes in to account the time spent for practicals and tuition etc. Also, commerce students cannot change to streams/courses related to Science after XII, while it is possible the other way round.
2. Curriculum – Science vs. Commerce
Science
Science students have to choose one among:
PCM (Physics, Chemistry, Mathematics) for Engineering
PCB (Physics, Chemistry, Biology) in case they wish to go for medical stream.
They also have an option to choose PCMB i.e.  mathematics as well as biology, but this must be done only if you are ready to take extra pressure of preparing for engineering as well as medical entrance examinations.
However, we feel this is unnecessary and you should focus on either PCM or PCB – since at the end you may either take admission in engineering or medical and not both!
Commerce
Students of commerce stream have to study:
Economics: Including Finance, Taxation and Economic policies of a country
Accounts: Calculation of profit or loss of yearly transaction of a company's trade
Business Studies: Includes studies about business and its policies
Mathematics (an optional subject): Includes topics like Probability, differentiation, integration etc.
Though maths is an optional subject, it is very important for vocational courses like CA, CS, CFA etc.
3. Eligibility – Science vs. Commerce
Science
Good marks/grade in 10th boards along with min. 60% in science and math is required by most good schools as the minimum qualifying criteria.
Commerce
Passing marks/grade in 10th boards with good marks in maths is required by most good schools.
4. Options for Higher Study – Science vs. Commerce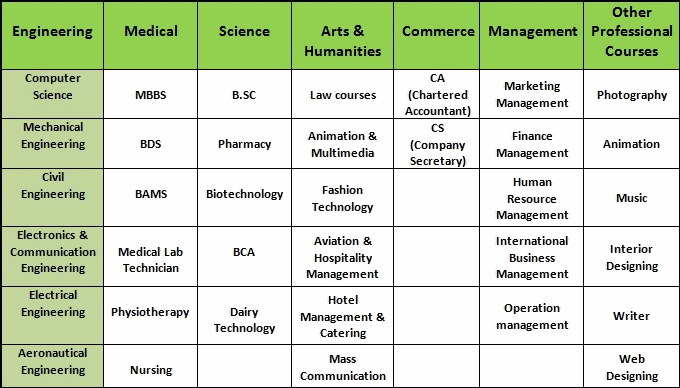 Science
If you are planning to take PCM (Physics, chemistry, math) in 12th, here are the streams which it may lead you further:
Engineering – Civil, Agricultural, Mechanical, Software etc.
Fashion designing
Interior designer
B.Sc/M.Sc.
BCA/MCA
M.Tech. etc.
And if you have planned to choose PCB (Physics, Chemistry, Biology) in 12th, you may be led to the field of:
Medical – MBBS, BDS, BAMS, BHMS, BUMS
Nursing
Physiotherapy
Biotechnology
Pharmacy
Commerce
Students of commerce may go for courses like:
You may also opt for studies like:
Chartered Accountants
Company Secretary
Chartered Financial Analyst
Law
5. So, Which One To Choose?
Choose the one that matches your skills and the one which you feel you are passionate about
Though science students have to spend longer time with their books; in tuition, schools and extra classes; it may be a subject of interest to many students.
Commerce students too have to spend long study hours if they want to crack exams like CA and CS they have to strengthen their math and calculations.
Keep in mind, subjects are neither good nor bad; they are neither easy, nor difficult. It is your interest which lets you win command over your subject. Remember, this is just a new beginning towards your career, and there are many more number of doors open ahead.
It may even be possible that after starting your eleventh, you may realize that neither Science or Commerce is your cup of tea. Don't worry, just pass your boards. There are plenty of alternate options to choose after your XII in other professional fields like, Media, Management, IT, Hospitality & Tourism, Arts, Law, Sports, Teaching etc.,
So, right now make a choice which you feel is right for you. Remember this is not the end, but the beginning! As you learn more about yourself and understand the way this world works, you will learn that you have still more, different and better options ahead.
All the best!
Originally posted 2016-07-13 05:30:55.