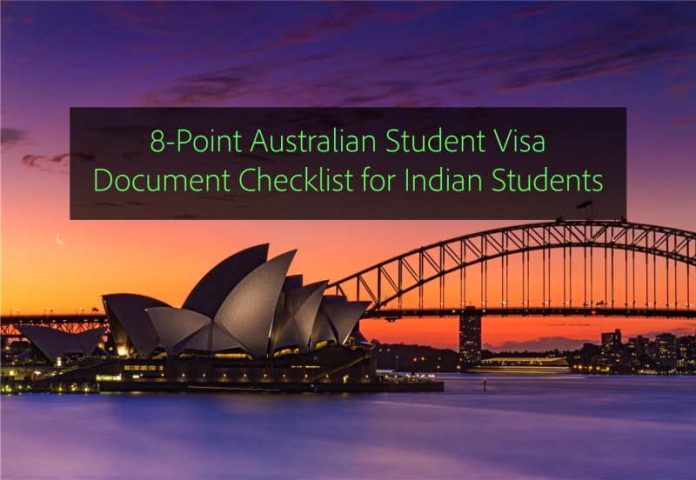 Thinking of studying overseas? Australia is one of the most popular destination among Indian students. It hosts about 260,000 international students each year, thus harboring third largest population of international students in English speaking world.
Moving to Australia requires vigilant groundwork and the first step is to get admission in a recognized course in any of the Australian university. Second step is to apply for Australian student visa. Acquiring an Australian student visa (subclass 500) is not an exhilarating process, but can become tedious if you don't have all the documents in hand while applying for the visa.
Given below is Australia Student Visa Document Checklist for Indian Students:
The first and foremost document you will be needing whilst applying for Australian student visa is proof of identity. This can be driving license, aadhar card, passport etc. The best way is to attach your passport. In addition to that, attest your birth certificate, national identity card or driving license.
2
Evidence of intended study
You must provide an acknowledgement letter confirming your placement to study in an institute belonging to the Commonwealth Register of Institution of Courses (CRICOS) in Australia; this is a pre-requisite. A Confirmation of Enrolment (COE) is a code that you need to fill at the appropriate place in your visa application.
All students visa holders are required to obtain Overseas Student Health Cover (OSHC) which provides medical and hospital insurance in Australia. This is a type of health cover which is analogous to medi-care for Australian residents. Students must not arrive in Australia before their health insurance starts.  If they are in Australia and do not have adequate health insurance, they are in breach of visa condition 8501.Many universities provide this health cover which depends on your duration of stay, and costs a maximum upto INR 16,000 per year.
If your university does not provide the facility, you need to purchase it from one of the five approved providers: Australian Health Management, BUPA Australia, Medibank Private Limited, Allianz Global Assistance and NIB Health Fund.
You will be asked to include the name of your health insurance provider and the starting and expiring dates. Policy number is not to be filled in the application.
If student is studying at more than one educational provider and both are arranging OSHC, he will have to ensure that there is no gap between policies. This means that as one policy expires the next commences immediately.
If person have a child born after your arrival in Australia, and he/she only have a single OSHC policy they must change that to a family policy. If family members join him after his arrival in Australia they will have to demonstrate that they have an OSHC policy for the duration of their visas.
4
Evidence of financial capacity
You are required to present the proof of adequate funds to cover tuition fees, cost of living, travel and return fare. As of February 2018, the estimate of living cost that you need to present is INR 10,14,500 per year. You can display this by giving any of the following:
A letter of support from the Department of Foreign Affairs and Trade or Department of Defence.
Proof of adequate funds to cover tuition fees, cost of living, travel and return fare.
Verification of funds may include money deposits, financial institution or government loans, scholarships or sponsorship.
The annual income option requires a student to provide evidence of personal annual income of at least AUD 60,000. For students accompanied by family members, the requirement is at least AUD 70,000. The income demonstrated must be the personal income of your spouse (who is not coming with you) or parents.
Where both of your parents are working, their combined income can be considered for this requirement.
Evidence must be in the form of official government documents such as tax assessments. Evidence in the form of bank statements or information directly from an employer is not acceptable.
Student and his accompanying family members must demonstrate that they will have access to the funds while they are in Australia.
Some examples of how to evidence genuine access include:
When another person or business is providing funds, show evidence of the relationship and any history of financial support provided to the student or any other students. It is also good practice to provide identity documents for the person providing the funds or evidence that the business is currently operating.
If relying on a money deposit, any recent large deposits must be explained. You may also consider explaining ongoing deposits – like wages.
If you have an education loan to cover tuition fees or living expenses (such as accommodation) disbursement should occur according to the agreement between the bank, provider and yourself. Evidence of any disbursement which occurs before the visa application has been finalized, should be provided. Evidence of the terms of the loan and the full amount of the loan that will be disbursed should be attached.
Providers should be aware of the conditions placed on the education loan. Some loans offer deferred repayment against future earnings of the student and are conditional on the student studying only the stipulated course as that provider.
The applicants may be asked to attend a full medical and/or radiological assessment to ensure that they are in good health. You must meet the health requirements.
6
Genuine Temporary Entrant (GTE) requirement
According to Genuine Temporary Entrant (GTE) requirement the candidate must have a genuine intention of staying in Australia. GTE requirement under student visa program help to identify the students whose motives the gaining quality education.
The following factors are assessed by the decision-makers:
Circumstances in your home country
Potential circumstances in Australia
Value of the course that will impact the applicant's future
Applicants immigration history
Previous education
Gap in previous study
Current employment
If you have changed your name in any document, you need to provide certified copies of documents to support your name change. Also need to provide the affidavit for the name change document.
Being from a non-English speaking country, you also need to prove that your English proficiency meets a required standard. IELTS and TOEFL are two standardized tests that are widely accepted to check your English proficiency level. Other tests are IBT, Pearson Test of English (PTE) Academic, Cambridge Advanced English (CAE) etc. The required score depends on the type of score that you are opting for.
Originally posted 2018-04-24 23:52:37.