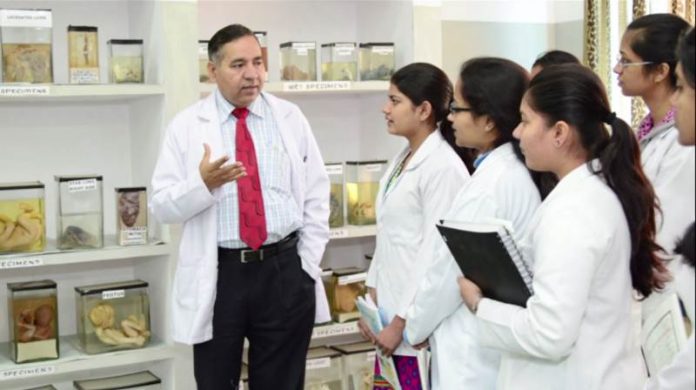 A science student of std. 12 generally dreams of joining either medical or engineering stream. Those who choose PCM, generally aspire to become engineers and those with subject's PCB prefer medical science stream.
Medical science is basically, a study of diagnosis of diseases, its prevention and cure.
Medical science has been one of the most popular streams and holds great importance in our day to day healthy lifestyle. It is a prominent stream chosen by a science student after passing out 12th. People usually refer medical stream to nothing more than MBBS (Bachelor of Medicine and Bachelor of Surgery). But the fact is that there are many other courses related with medical studies and it is just not limited to MBBS only.
1
Careers and Courses for Medical Stream (PCB) Biology Students
Medical stream students may opts for the following courses:
A. Undergraduate Courses
MBBS: Bachelor of medicine and Bachelor of surgery is a highly preferred medical course. It takes 5.5 years to complete this course. 4.5 years of class room course is then followed by 1 year of internship. To take admission in MBBS, one needs to qualify the entrance exam such as AIPMT or NEET etc.
BDS: Bachelor of Dental Surgery is the second most preferred course after MBBS. It is takes 5 years to get certified, including 4 years of class room study and 1 year of internship. The eligibility criterion is to score a good percentage in PCM (12th) and qualifying AIPMT OR NEET.
BHMS: Bachelor of Homeopathy Medicine and Surgery is a course of 5.5 years.
BAMS: Bachelor in Aayurvedic Medicine and Surgery is a study of Aayurvedic treatment and medicines for the cure of diseases. It is also a 5.5 year study plan in which 4.5 year is class room study whereas 1 year internship is required.
BUMS: Bachelor of Unani Medicine and Surgery is chosen by those who cannot compete in MBBS or BDS exams. It is a 4.5 year course followed by 1 year of unpaid internship. 50% in science along with knowledge of Urdu is compulsory to get admission in this course.
B.Pharma: Which means Bachelor of Pharmacy is a study of Pharmaceuticals. It time period to complete this course is 4 years. One needs to score atleast 50% in science subject in 12th to apply for B.Pharma.
Dip. Pharma: Diploma in Pharmacy is a study of 2 years. It is prominently done to gain knowledge of medicines including chemical composition as well as making of medicines. It requires at least 50% in science subjects in 12th.
BPT: Bachelor of Physiotherapy is a 4 year course followed by 6 months of internship. It is a study dealing with treatment of muscular injuries without any surgical method, with the help of exercises.  At least 50% is required in 12th to take admission in BPT.
BOT: Bachelor of Occupational Therapy is a course of 3 years. It is a study related to treating emotionally and physically challenged people without any surgery.
Sc/ in Biotechnology or B.Tech: It is a course of 3 yrs if you want to attain the degree of B.Sc. and 4 years to attain degree of B.Tech. It is a study of biological science along with technologies to bring changes in living organism and their biological system. Min. 60 % is required in 12th through science stream to get admission to this course.
Post Graduate and Advanced Courses:
MD: Doctor of Medicine a course of 3 years, done after acquiring a degree of MBBS. It is acquired by Physicians.
MS: Master of Surgery is also done after acquiring MBBS degree and requires the duration of 3 years.
DM: Doctorate of Medicine is a course of 2-3 years, done after acquiring degree of MD. This degree is equivalent to PhD degree.
Other than these, one can apply for many other courses under Medical genre such as:
Radiography
Bachelor of Medical Lab Technician
Sc. in Nursing
2
Entrance Exams for Medical Stream Students
All medical courses take entrance tests, or may organize university level exams; courses like MBBS, BDS, MD/MS MDS requires qualifying marks in entrance exam organized at national or state levels to take admission in these courses. These exams are organized in the months of May – August.
Some of such entrance exams are:
| | |
| --- | --- |
| Exam name | Full form |
| AIIMS | All India Institute of Medical Sciences |
| MH CET | Maharashtra Common Entrance Test |
| AIPMT | All India Per Medical entrance Test |
| CMC CET | CMC Vellore Common Entrance Test |
| COMEDK UGET | Consortium of Medical, Engineering and Dental college of Karnataka |
| DPMT | Delhi University Pre Medical Test |
| GUJ CET | Gujarat Common Entrance Test |
| BHU PMT | Banaras Hindu University Pre Medical Test |
| PMET | Punjab Medical Entrance Test |
| JIPMER | Jawaharlal Institute of Post-Graduate Medical Education & Research |
| NEET UG & PG | National Eligibility cum Entrance Test Undergraduate & Postgraduate. |
| MP DMAT | Madhya Pradesh Dental and Medical Admission Test |
| WBJEE | West Bengal Joint Entrance Exam |
| PGIMER | Post Graduate Institute of Medical & Research |
| AIPVT | All India Pre Veterinary Test |
| AFMC | Armed Forces Medical College exam |
These are important medical entrance exams at all India level & State level for entrance to both private & government colleges.
3
Fee Structure of Medical Colleges
Fee of government colleges is less than private colleges. Government colleges fee starts from Rs. 20,000 – Rs. 50,000 per annum (approximately), whereas under management quota, the fees is (approx) Rs. 2.5 lakhs for MBBS and Rs. 3.5 lakhs (approx) for BDS.
Whereas, AIIMS charges the least, i.e. Rs. 6000 per annum. Also, in private colleges the tuition fee may vary from Rs. 5lakhs – Rs. 10 lakhs per annum.
Below mentioned are some colleges with their fee per annum (Appox.) for reference purposes:
Name of Gov. colleges
Fee structure per annum (approx.)
Name of Private colleges
Fee structure per annum (approx.)
Patna Medical College, Patna
Rs. 19,200
Index Medical College, Bhopal
Rs. 4,00,000 + Rs. 25000 (security)
Maulana Azad Medical College, Delhi
Rs. 12,350 + bond of Rs. 5,000 (one time pay)
C M Medical College, Chhattisgarh
Rs. 3,80,000
Goa Medical College, Panaji
Rs. 104,700+ bond Rs. 5,00,000 (one time pay)
UPCMET College U.P.
Rs.49,67,500 + Rs. 2,00,000 (security)
B.J. Medical College, Ahmadabad
Rs. 13,200 + bond Rs. 5,00,000 (one time pay)
MS Ramaiah Medical College, Bangalore
Rs. 3,69,000 (for COMEDK qualified)
PT. B.D. Sharma PGIMS, Rohtak
Rs. 102,040
KMC, Karnataka (Manipal university)
Rs. 37,67,000 + Rs. 10,000 (Registration)
R.G. Kar Medical College, Kolkata
Rs. 18,689 + bond Rs. 1,00,000 (one time pay)
DY Patil Medical College, Pune
Rs.10,75,000
Madras Medical College, Chennai
Rs.60,580
Bharati Vidyapeeth Medical College, Maharashtra
Rs. 80,50,000 (regular)

Rs. 10,00,000 (Management quota)
4
Jobs for Medical Stream Students
In this stressful and fast moving world, medical has become an in-demand career path. People are suffering from diseases due to many reasons and hence they visit doctors for cure. It is a job of serving the society and amongst the reputed jobs. One can join any hospital or health care centre after the completion of the course and can get the relevant designation. Medical steams are high income streams. One may also open a private clinic.
As mentioned above, study of medical science comprises of number of streams, but it is most important to choose the one which matches your interest and skills. Students must also keep in mind their aptitude while making the choice.
It is important to remember that whichever course you may choose, you'll have a bright future as the stream is expanding rapidly, and every sector of medical (whether BDS, BUMS, BHMS OR BAMS) is in demand. MBBS is not the only course; there are many more options available, choose the one which is best for you.
All the best!
Originally posted 2016-07-22 03:52:43.