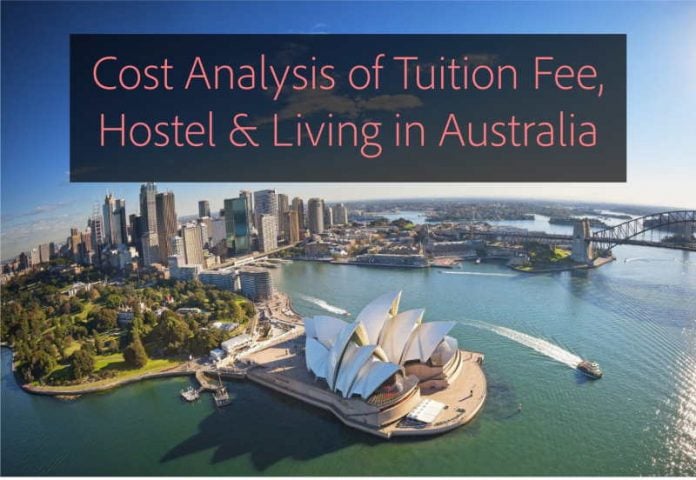 Studying in Australian universities offers better academic facilities, personality enhancement opportunities, improved life style, good education and better job perspectives for the Indian students. But all these above require a large financial support. Having detailed knowledge of all the expenditures involvedin your Australian studies can make the process smooth and hurdle free.
Given below is an estimation of cost of education in Australia for Indian students; assessment of Tuition Fee, Hostel & Living:
Foundation Studies (such as university entrance, preparatory and bridging courses): INR 4,50,000 – INR 7,50,000 per year
Bachelor Degree: INR 7,00,000- INR 17,75,000 per year
Postgraduate (Master's/ PhD) and Graduate Certificates, Graduate Diplomas: INR 7,00,000- INR 1,850,000 per year
The high-value courses such as veterinary or medical, are not included in this estimation. These degrees cost notably more. The estimation of tuition fees in Australian university follows a different pattern. The universities calculate tuition fees per unit and not per year. A combination of these units is generally opted by the student. Hence, fees vary considerably. Each unit falls into a fee band.
For example, the average tuition fees of Melbourne Business School, The University of Melbourne is INR 29,50,000 and that for Graduate School of Business, RMIT University is INR 19,00,000.
A student is required to have this much amount of money (as indicated in above figures) for the time of your student visa. Another expenditure that can be rather abrupt is Student Services and Amenities fee. This fee covers the services and amenities charge which is not of academic nature. This fee is not charged by all Australian universities, but if charged, it is maximum of upto INR 14,700.
OSHC is a health cover that provides safety to international students. It is analogous to medicare that is provided to the residents of the country. The duration of your stay in Australia determines the OSHC costs and the premium depends on the heath fund but commonly, starts from INR 3,900 for a duration of 3 months which makes it INR 16,000 per year. The OSHC premium is to be paid before coming to Australia and you need to pay a family premium if your spouse or dependent kid comes with you.
The good quality of education and life style makes Australia top 3rd country to host large number of international students, just after USA and UK. One reason of popularity of Australia is the less cost of living in comparison to the United States and the United Kingdom.
The Department of Immigration and Border Protection (DIPB) requires a proof of minimum of INR 9,91,500 for your living cost per year. Apart from this, you also need to give a proof that you have an amount reserved for your return ticket.
These are the estimations set by the department but you may not necessarily spend this much amount. The net estimated amount for your expenses is INR 15,550 per week. These figures include your shared accommodation, groceries, gas, electricity, phone bills etc. This may vary on your choice of accommodation, depending on whether you choose private rented accommodation, which is the costliest or shared accommodation on campus(the cheapest).
If we particularly think about Sydney, it is one of the best cities of the world and hence the high cost of living is justified. Universities in Sydney proffers a variety of programs and internationally recognized degrees.
Given below are three ways you can cut down your expenses and cope up with high living costs of Sydney:
Get part-time jobs: Working in spare times at food joints, convenience store, gasoline stations etc. can give you extra financial support. Sydney and other cities of Australia proffers many part-time jobs.
Cut your vices: To save money, cut down on your cravings for cigarette and alcohol. Also buy what is only needful. Make a list of items you need to buy and keep only that much amount of your money in your pocket so that you don't buy things you are tempted by. Cut down your subordinate expenses like your habit of watching a movie every week.
Make use of your student discounts: Many goods and services are available with addition student discounts. Make sure you use it. For example: riding on a bus can be cheaper for students.
Originally posted 2018-04-25 20:42:42.