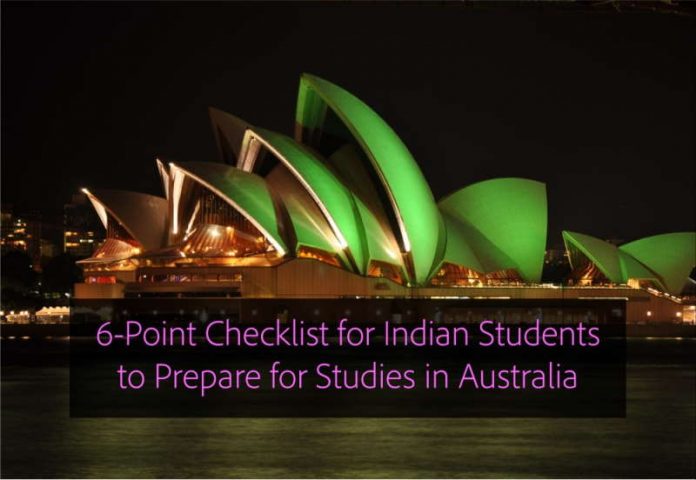 Studying in Australia is an important decision and requires vigilant preparation and execution. Getting admission in your desired course in Australian university, successfully applying for Australian student visa and getting your flights booked are primary steps but the list does not end here.
Listed below is a 6-point checklist for Indian students to prepare for your studies in Australia:
1
RESEARCH YOUR CHOSEN CITY AND LOCAL AREA
It is utterly important to research your city, its highlights and all information about the local area around your campus. This includes researching about facilities near your home or campus, such as banks, shopping centres and hospitals; public transport options (including ticketing systems and the location of pick-up and drop-off stops and stations); living costs; and the local climate. Reading about Australia, the city you are moving to, its lifestyle, culture, slangs etc. will help you immensely and will make your settlement a little easier.
2
ORGANIZE YOUR ACCOMMODATION
Accommodations are available in different types depending on your needs and budget. The different type of accommodation include home stay, university accommodation (in the form of residential colleges, halls of residence and apartments), hostels and guesthouses, private rented accommodation, which is the costliest.
3
TAKE NOTES OF KEY DATES FOR ORIENTATION ACTIVITIES
O-weeks or orientation weeks are planned by universities in Australia, these week help students get habituated with the university. Numerous activities are organized to get students accustomed to the university campus and also with their peers.  Buddy programs are also organized to initiate interaction between local and international students. These weeks are important for you to get acquainted with your classmates and clear out any doubts related to administrative matters. Look out your university's calendar and arrive in time.
4
HAVE ALL YOUR IMPORTANT DOCUMENTS READY
You need some documents in hand for your stay; these documents include your passport, airline tickets, your student visa, your offer letter and Confirmation of Enrollment (CoE), up-to-date academic transcripts, medical records and personal references. Make sure your passport's expiry date is of at least six months after you finish your studies. Check university's document checklist and make sure you have them all. Also, have some money already exchanged so that you do not face problems in covering initial expenses.
5
MAKE SURE YOU UNDERSTAND AUSTRALIAN QUARANTINE LAWS
A fine can be imposed on you if you do not abide by the list of quarantine laws that Australia has. A strict set of rules are declared to protect the agricultural industry and environment. Food, plant material and animal products are prohibited and also bringing cash more than INR 5, 00,000 has to be declared.
6
LET YOUR INSTITUTION KNOW WHEN YOU ARE ARRIVING
It's a good idea to inform your institution about your arrival.  Some institutions offer the facility of free airport pick-up; hence it is advisable to inform your university. Your university may advise you to complete other tasks before coming to Australia or after arrival. Also, make sure you confirm your accommodation arrangements.
Originally posted 2018-04-28 18:21:18.