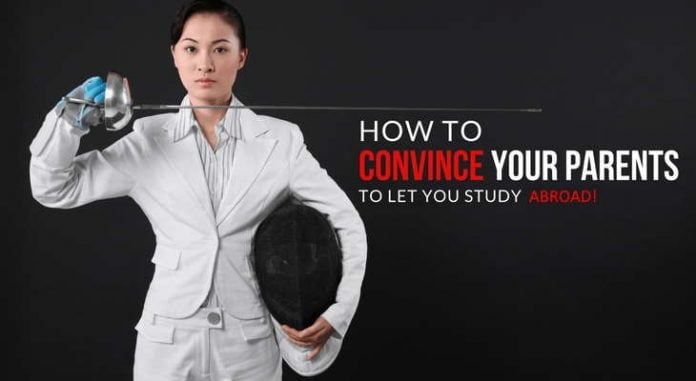 The idea of pursuing your degree overseas is considered as a rational and coherent decision. Degree from abroad not only ensures better prospects for your vocation with a high-end job, but also a dynamic change in your persona. The idea seems fancy but at the same time brings with it certain obstacles, primarily concerning your parents. Though finest education is of paramount importance for the parents, yet they still sometimes seem anxious about the decision.
Given below are 5 pointers to convince your family on your decision to study abroad:
It is important to show your parents that your decision to study abroad is not taken in haste and you are already started on track. Get good grades; this can open your pathway towards acquiring admission in the top notch universities abroad. Join a couple of coaching or foreign language training to show them that your purpose is not vague.
2
Stress on the academic advantages
One key aspect to cover is the academic advantages studying abroad will provide you with. Elucidate on the fact that the quality of scholarly programs are much superior to that in your country. Highlight the benefits that studying abroad will extend to your academic profile and how it will give you the edge career-wise.
3
Highlight the opportunities for your personal growth
Stress on the aspect that studying abroad will boost your personality and emerging out will be a well-formed, independent and wholesome personality. Most of the growth occurs outside the class room, hence illuminate the fact that going abroad with broaden your stance and change your attitude towards things.
Your parents will most likely need to help you monetarily while you are studying abroad, so you have to present their help as an investment in your future. Start making a checklist of all the expenses and how can trim them down. If you get a scholarship, it will definitely be of a great help in making your side strong. Present the idea of taking a part time job to convince them that you have a broader vision. If you already have some savings, your parents will be entirely persuaded.
5
Calm your parent's security distresses
A counter argument that your parents will possibly put forth is your safety and security's vagueness. Highlight the safety measures the university takes to protect international students and also how safe the country and/or the city is. Guarantee them that you'll take all the precautionary measures to be safe at all times. Also, assure them that you'll be rightly equipped to survive the danger.
Use these pointers and come up with other ingenious ways to persuade your parents about your decision to study abroad.
GOOD LUCK!
Originally posted 2018-04-20 17:03:36.