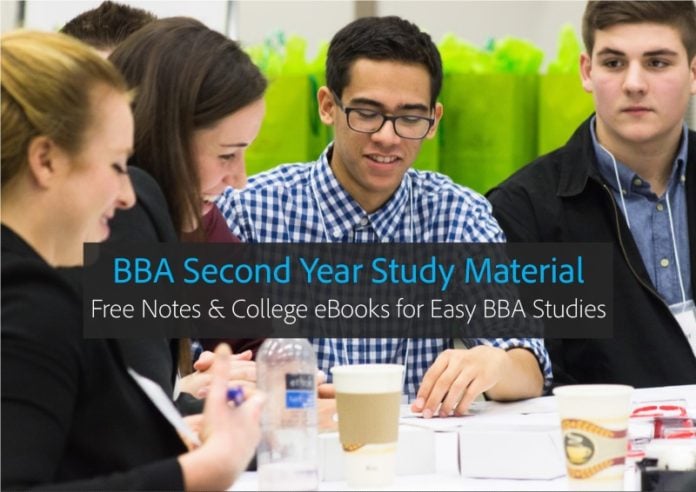 The Bachelors in Business Administration (BBA) course provides a student with conceptual, theoretical and practical knowledge in various aspects of business like finance, economics, operations, marketing, basic accounting etc. In today's competitive world where everybody wishes to become an entrepreneur, this course helps you think more precisely on different aspects of running a business. It helps in building tactical skills as well.
Greater challenges in terms of challenging subjects are faced by the students during the second year of their course. The course helps a student in developing a holistic approach towards business management.
Several second-year BBA students who are a member of our Online Students Community, connected with us and have complained about lack of quality in available online study material for BBA second year. So, to empower you in your BBA second year studies, we requested your BBA seniors to share their notes and college eBooks.  As a result, we now have a collection of notes and eBooks for all the major subjects taught in BBA second year. You can easily follow the links below and access all the study resources on the BBA Forum on Studynama online Community.
Here's a list of BBA Second Year subjects for which free BBA lecture notes are available on Studynama:
These above links have been shared by students studying BBA second year across good universities in the country. These notes might help you in scoring good marks in your exams and will also enhance your knowledge of BBA subjects.
In case you have any questions or queries, please feel free to comment below. You may as well put down a request for any specific subjects' study material to be added as per your requirement. We hope this post and the study material on Studynama B.B.A community will be helpful in your BBA second year studies.
All the best learners!!
Originally posted 2018-04-13 10:16:05.