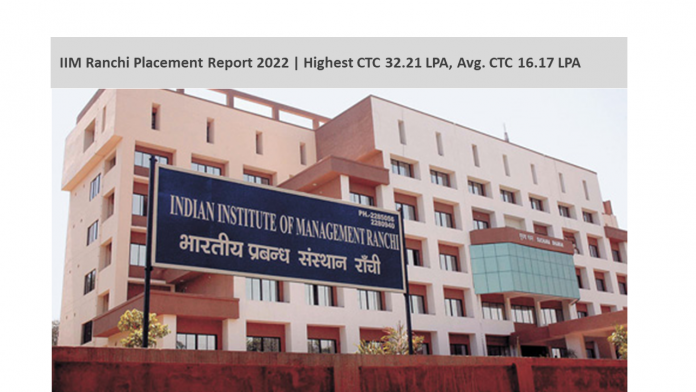 This year 77 companies visited the campus and extended value offers to PGP students at IIM Ranchi. Marketing & Sales emerged as the most preferred functional area in terms of receiving some of the best packages. The batch of 2020-22 is well proportioned in terms of both gender as well as background and experience. Below is a comprehensive placement report for the year 2022.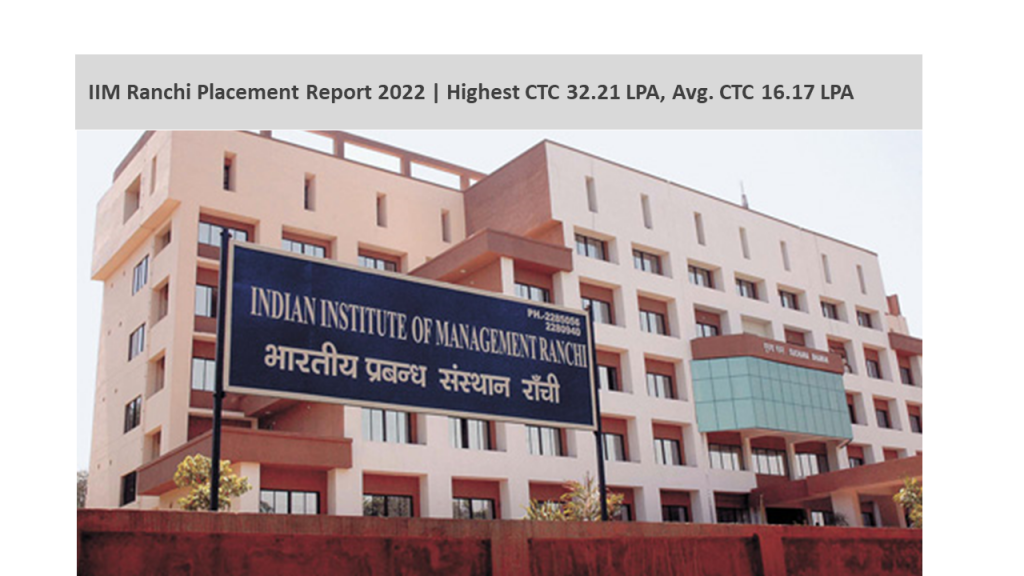 IIM Ranchi Placement Summary 2022
IIM Ranchi Student's Profile Batch 2020-2022
The batch of 2022 at IIM Ranchi is very well balanced in terms of both genders, education background and work experience. The students came from very diverse academic fields like Engineering, Science, Economics and commerce. This batch also had a varied work experience in the IT , Finance and consulting. The batch of 2020-2022 comes with a prior work experience in top companies like Ernst & Young, Moody's Analytics, Tata Motors, Airtel, CRISIL Limited, ZS Associates, Accenture, Bosch etc.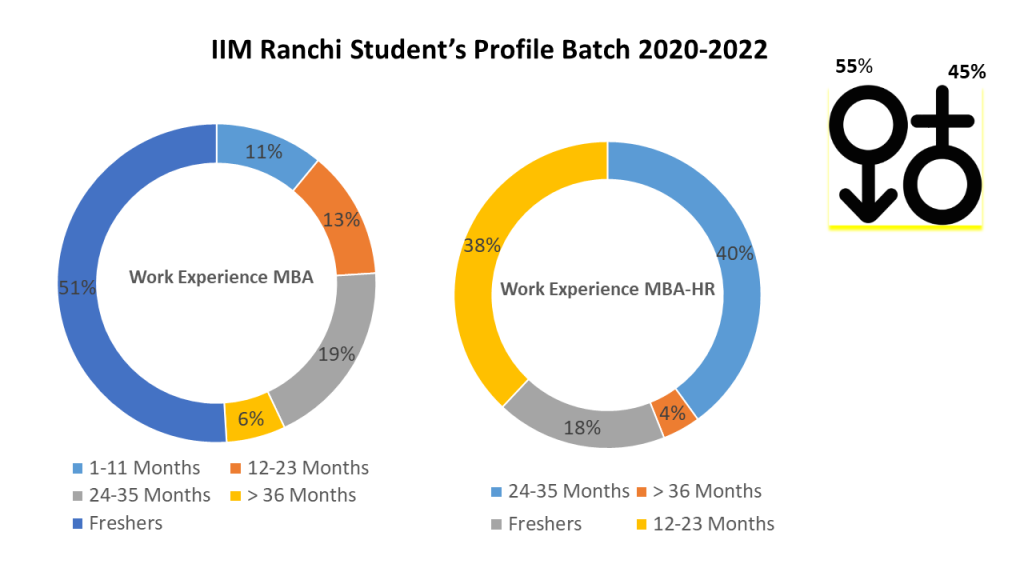 IIM Ranchi MBA Placement Highlights 2020-2022
| | |
| --- | --- |
| Particulars | Package (INR) |
| Highest CTC | 32.21 LPA |
| Average CTC OF TOP 10% | 25.16 LPA |
| Average CTC OF TOP 25% | 22.02 LPA |
| Median CTC | 15.50 LPA |
| Average CTC | 16.17 LPA |
MBA Batch Profile 2020-2022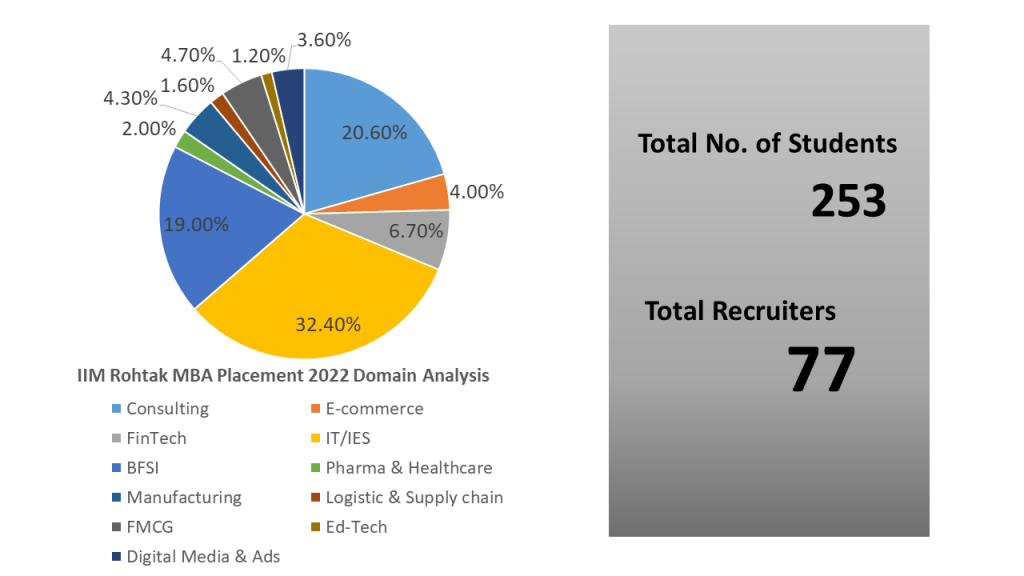 IIM Ranchi MBA-HR Placement Highlights 2020-2022
| | |
| --- | --- |
| Particulars | Package (INR) |
| Highest CTC | 32.21 LPA |
| Average CTC OF TOP 10% | 27.26 LPA |
| Average CTC OF TOP 25% | 22.17 LPA |
| Median CTC | 15.40 LPA |
| Average CTC | 15.63 LPA |
MBA-HR Batch Profile 2020-2022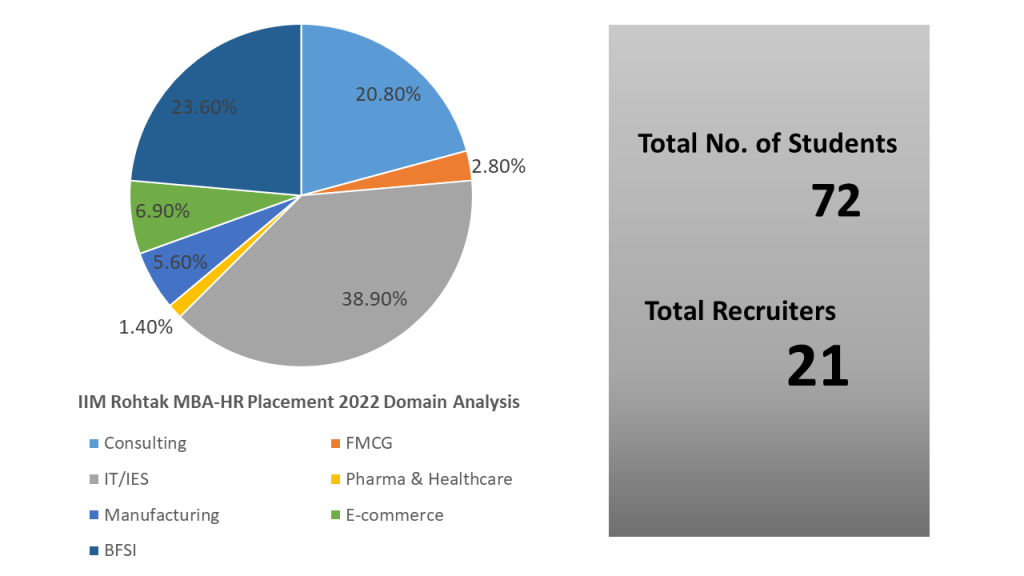 Placements across Domains
IT – Analytics
Finance
Operations
Sales & Marketing
Strategy & Consulting

IT – Analytics
| | |
| --- | --- |
| Particulars | Package (INR) |
| Highest CTC | 30.79 LPA |
| Average CTC | 15.62 LPA |
| Median CTC | 14.50 LP |
| Average CTC OF TOP 10% | 25.70 LPA |
| Average CTC OF TOP 25% | 21.16 LPA |
Finance
| | |
| --- | --- |
| Particulars | Package (INR) |
| Highest CTC | 25 LPA |
| Average CTC | 15.70 LPA |
| Median CTC | 16 LPA |
| Average CTC OF TOP 10% | 20.88 LPA |
| Average CTC OF TOP 25% | 18.81 LPA |
Operations
| | |
| --- | --- |
| Particulars | Package (INR) |
| Highest CTC | 18 LPA |
| Average CTC | 13.40 LPA |
| Median CTC | 13.20 LPA |
| Average CTC OF TOP 10% | 18 LPA |
| Average CTC OF TOP 25% | 16.50 LPA |
Sales & Marketing
| | |
| --- | --- |
| Particulars | Package (INR) |
| Highest CTC | 26.12 LPA |
| Average CTC | 16.60 LPA |
| Median CTC | 15.61 LPA |
| Average CTC OF TOP 10% | 24.42 LPA |
| Average CTC OF TOP 25% | 21.66 LPA |
Strategy & Consulting
| | |
| --- | --- |
| Particulars | Package (INR) |
| Highest CTC | 32.21 LPA |
| Average CTC | 17.10 LPA |
| Median CTC | 15.50 LPA |
| Average CTC OF TOP 10% | 26.04 LPA |
| Average CTC OF TOP 25% | 24.56 LPA |
List of Top companies at IIM Ranchi for the recruitment drive for the batch 2020-2022
| | |
| --- | --- |
| Deloitte | Asian Paints |
| Hero | HSBC |
| E&Y | HCL |
| Amazon | HDFC |
| IBM | Wipro |
List of Top companies at IIM Ranchi for the summer placements for the 2021-23 batch
| | |
| --- | --- |
| L'Oreal | Accenture |
| EY | Godrej |
| Gartner | Amazon |
| HCL | Mahindra |
| Samsung | Deloitte |