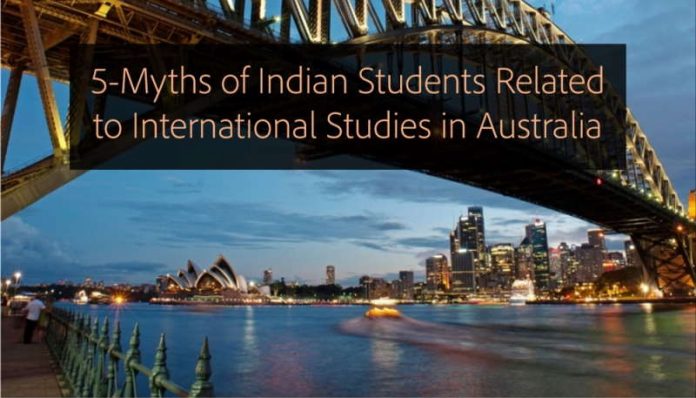 Decision to study overseas is very difficult to make. With all the hustle going on there is an array of thoughts going on in your head about all the adaptations you have to make. Worrying is normal in such situations since living in a new country can seem to be a daunting task.
Listed below are 5-Myths of Indian students related to International studies in Australia:
1
STUDYING OVERSEAS IS A LONELY EXPERIENCE
It's a common myth that it will be difficult to make friends in the new country and studying overseas will be a lonely experience. Contrary to what is commonly believed, universities try every possible way to make international students comfortable. O-weeks or orientation weeks are planned by universities in Australia, these week help students get habituated with the university. Numerous activities are organized to get students accustomed to the university campus and also with their peers.  Buddy programs are also organized to initiate interaction between local and international students. All universities have many students' organization, clubs and societies. While some of them are courses, languages or sports based, others are just a bunch of people sharing common interests. International students are often offered additional services along with health care and counselling. The university support system is another advantage of studying in an international Australian university.
2
IT'S IMPOSSIBLE TO EXCEL IN STUDIES IF YOU ARE NOT A NATIVE SPEAKER
Many students believe that excelling in academics is difficult if you don't speak the native language. While you can face some difficulty in understanding the lectures and tutorials, it is not impossible to cope up. Professors and teachers understand that many students come from non-English speaking countries and are always willing to help. Hence, don't hesitate to ask questions or request your professors for help.
3
STUDYING ABROAD IS EXPENSIVE
While studying abroad comes along with financial challenges, there is number of courses available suiting everyone's budgets. In addition to this, numerous scholarships are available for students that ease up the burden. Universities both in Australia and your native country provide these scholarships. Many private organisations, such as industry associations or large companies; and government departments provide numerous scholarship schemes. One can also go of study abroad and student exchange programs wherein you are obliged to pay to your institution in home country and study in Australia for one or two semesters.
4
YOU CAN'T WORK WHILE YOU STUDYING
Many students believe that you are not allowed to work while you study. Contrary to this, the Australian student visa permits a student to work part time for 40 hours per fortnight apart from the work associated with the course. These work limits do not apply if you are perusing master degrees by research or doctorate degrees.
5
ONLY SOME COURSES ACCEPT INTERNATIONAL STUDENT ENROLLMENTS
There is a common myth that some courses accept international student enrollments while others do not. From accountancy to veterinary sciences, students can apply for any course in Australia (there are a few exceptions to the rule). Eligibility criteria for each course and institution are different.
Originally posted 2018-04-28 18:34:31.