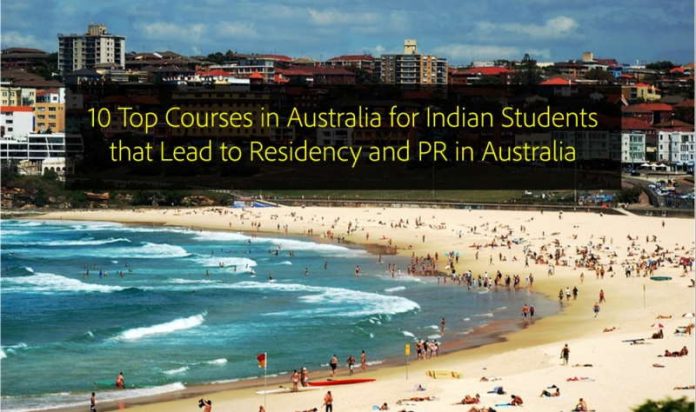 Australia is a destination that international students from all around the globe find lucrative to settle in. The stable and open economy, high living standards, low cost of living as compared to other English speaking nations, multicultural society, first-rate infrastructure, sky-scraping educational prospects are some of the highlights of Australia. The friendly laid back nature of the residents and stunning landscapes attract many aspirants from overseas to achieve the impressive lifestyle.
Post studies, if international students wish to live in the country or work, study they need to have an Australian student visa. Post 2 years of studies in Australian university or institution, an aspirant willing to work in the country can apply for Australian post studies work visa under subclass 485. The time period of Australian post studies work visa may vary. It highly depends on the qualification of the candidate.
There are two pathways through which the permanent residency (PR) in Australia can be attained by international students. These are:
If they satisfy the eligibility criteria of being nominated by the employer, or
They can apply through general skilled migration program.
If the candidate is applying through General Skilled Migration, the applicant must be optimistically evaluated by a certified evaluator. One thing to be remembered is that the area of study of the candidate must coincide with the nominated occupation. The corresponding occupation nominated must be a long term occupation.
Knowing which profession will probably remain in the long term occupation list and will be highly in demand in future too, is important.
Suggested below are 10 top courses in Australia for Indian students that lead to residency and PR in Australia:
Permanent Residency is given to many Engineering graduated, especially those of core branches. International students possessing work experience in similar sectors have a high chance of achieving Permanent Residency as they make a big contribution to Australian industries.
2
ICT (INFORMATION & COMMUNICATION TECHNOLOGY)
Australia has plethora of jobs for IT professionals in various roles, making technology jobs in high demand. Software application and programming, Computer Network and System, Web Developing, ICT Business & System Analysis, are some of the courses of IT through which PR is granted faster.
Australian health care industry is globally recognized as one of the best in class. Hence, health care services are in high demand in Australia. This profession makes it to the long term occupation list every year.
While making you eligible to apply for Permanent Residency, trade jobs are easy to learn and are highly recognized in Australia. An optimistic assessment by Trade Recognition of Australia (TRA), a government department, with Diploma or Certificate III / IV or Bachelor degree is a pass to become a Permanent Resident in Australia.
5
HOSPITALITY AND COOKING COURSES
Courses that help becoming Accommodation & Hospitality Manager, Chef, Baker, Licensed Club Manager, Bed & Breakfast Operator, Cafe or Restaurant Manager, Motel or Hotel Manager, Caravan Park and Camping Manager etc. are likely to be in the long term occupation list. This is because tourism is a happening industry in Australia; this boosts certain supporting professions to manage tourists and ensure the comfort of tourists.
Australian health care industry is globally recognized as one of the best in class. Hence, medical graduates and post graduates are paid handsomely and are in high demand. The profession is a good choice both in terms of money and permanent residency. Specialization in Radiology, Urology, Physiotherapy, Ophthalmology, Prosthetics, Neurosurgery, Pediatrics surgery, Cardio related surgeries, Orthopedics, Gynecology and Obstetrics, Dermatology, Medical Imaging, R&D, Oncology, and General Medicine are some of the branches much in demand.
Specialists in domains like Management Accounts, Taxation Accounts, and General Accounting etc. are always required in Australian industries and hence, accountancy makes its way to the long term occupation list every year.
Working with disadvantaged people is gaining popularity globally. Even in Australia a great number of students are admitted to courses Psychology, Psychiatry, Health and Welfare Services, etc.
The Australian approach of education is earning high recognition as one among the best and most pioneering approaches across the world. Maintaining the standards of education system requires investing a lot to this sector and hence there is always high demand for Vocational Education Teacher, Teachers of English language for people coming from non-English speaking countries, Special Needs Teacher, Early-Childhood Teacher (Pre-primary), Primary & Secondary School Teacher, Speech Professionals & Audiologists and University Lecturers. Hence, students wishing to get permanent residency can peruse this as their career option.
Law as an occupation makes it to occupation list every year and the young, talented youth is attracts to Australian legal scenario. Students pursuing courses in Land Economics and Valuation, Actuarial Science, Alternative Medicines, Mathematics, Statistics, Cartography and the likes have great chances of obtaining an Australia PR.
Originally posted 2018-04-28 06:21:07.