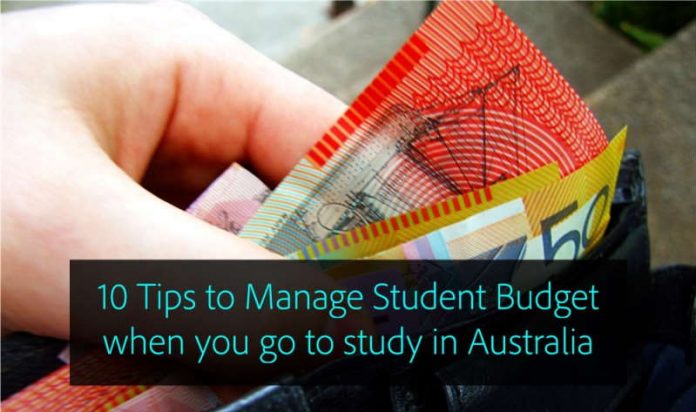 Adjusting in a new country with a student budget can be a tricky thing to do. Apart from the major expenditure of tuition fees and accommodation there are many other expenses like organising sightseeing trips and travelling home for the summer break. Managing the budget is important while you are studying.
Listed below are 10 tips to manage student budget when you go to study in Australia:
It is important to plan out your expenses and keep a track of all your daily spending. Map out your budget according to your expenses and income. The budget can be mapped out by listing the already known expenses such as rent, utilities, public transport and groceries. Divide your expenses into two sections viz. Essential and non-essential.
2
KEEP AN EYE OUT FOR SALES IN SUPERMARKET
Look for supermarket sales that come up and stock up on your monthly utilities. This can help you save significantly. Try to include supermarket specials in your meal. One thing to take into consideration is, don't come home buying things you didn't need. You can do this by making rough estimation of how many items you need will cost and take on just around that much amount to the supermarkets.
3
THINK OF IDEAS TO EARN SOME EXTRA MONEY
Australian student visa allows students to work for 40 hours per fortnight and hence you can earn extra spending money. If your current income is not sufficient to fulfill your needs you can always take an extra step and earn more money. For example- babysitting on weekends or freelancing etc. you can think of other ideas suiting your time and will to earn some money.
4
MAKE USE YOUR STUDENT CARD
There are numerous discounts available for students. For example- on public transport. Use the allowances wherever available.
Cut out your vices and try to save few dollars everyday. For example- walk to the supermarket instead of using your vehicle. The money you would have spent on petrol would be saved.
6
THINK OF SOME ALTERNATIVE ENTERTAINMENT OPTIONS
If you find yourself spending more cash, you can try to find alternatives. For example- instead of going to the restaurant you can cook your meal at home.
7
GO OUT AT STUDENTS NIGHT OR WEEKLY SPECIALS
Since the student's schedule is not packed on weekdays, consider going out to catch up with your friends on weekdays. Cheap food and drinks are often available at restaurants and bars at weekdays or specials.
You can cut down your daily expense just by making yourself lunch in the morning instead of buying it at the restaurant. It may seem like a small saving but it all adds up!
9
TAKE ADVANTAGE OF SECOND HAND OPTIONS
By opting second hand items you can save a great deal. From textbooks, clothes and electronics to cars and furniture everything is available at cheap rates. You can also try buying stuff from online forums or websites like eBay and Gumtree.
10
BE REALISTIC AND WILLING TO MAKE SACRIFICES
The spending money while studying is going to be limited and hence you need to list out your avoidable and unavoidable costs and start spending on things that are absolutely necessary. Spend only on what is affordable. For example: when comes to accommodation, sacrifices can be made.
Originally posted 2018-04-28 08:15:02.