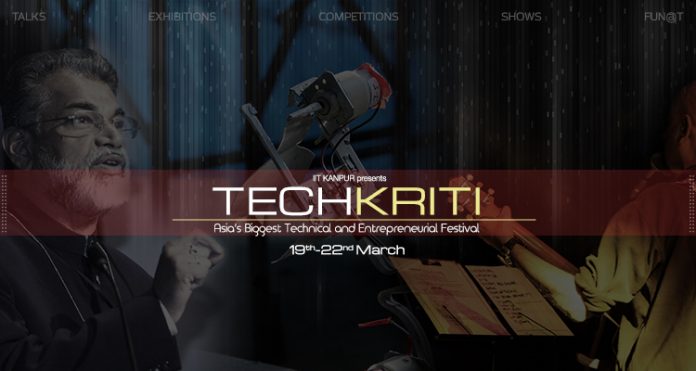 Techkriti is the annual inter-collegiate technical and entrepreneurial festival organized by the students of IIT Kanpur.
About Techkriti 2015: In this 21st century, brimming with technocrats and entrepreneurs Techkriti enters its 21st edition and is ready to, inspire to innovate and exterminate the social evils, through social campaigns. We promise the best 4 days of your life, and assure you will leave with a lot of inspiration and information to innovate and excel. So get ready and let the Geek within you run rampant, cause the countdown has already started.
Techkriti 2015 dates: 19-22 March 2015
Events at Techkriti 2015: Apart from fierce and neck to neck competitions in various fields, such as Robotics, Electronics, Business, Design, Coding, Aero-modelling, Online events (Crypto, Stocksim etc.) as well as Rubix Cube, there are guest lectures and exhibitions to inspire the students to take that extra step towards innovation. List of major events at Techkriti 2015:
– Robogames
– Innovation in manufacturing process
– Through your lens
– Business Competitions
– Electronics Circuit Design Challenge
– Design Events
– Online software events
– Astronomy (Cosmos), Rubiks Cube (IORC), Nut-Cracker(Pure Sciences) and Crime Run (Sherlock Holmes, No kidding)
Techkriti 2015 Social Media Channels: Facebook | Twitter | YouTube
Techkriti 2015 Event Co-ordinators:
– Mr. Shreyansh Singh | [email protected] | +91 9621261874
– Mr. Shivyansh Tandon | [email protected] | +91 8400009629
How to reach IIT Kanpur: The IIT Kanpur campus, located alongside the GT Road (Calcutta to New Delhi) is about 16kms away from the Kanpur central railway station. You can also go to Lucknow via. a flight and reach Kanpur via. a taxi that takes about 2 hours' time.
Techkriti 2015 website: www.techkriti.org
All images are sourced from www.techkriti.org or the official Facebook fan page of the event.