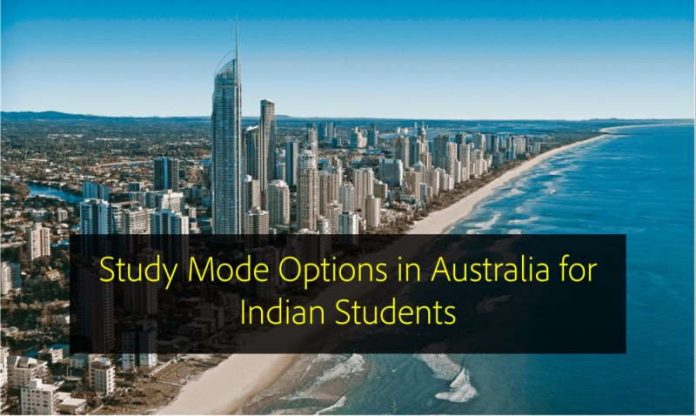 The first choice to be made while considering Australian study option is what will be the mode of study! Many options are available like moving to Australia, taking a short-term study abroad or a student exchange programs, or exploring distance education.
Listed below are study mode options in Australia for Indian students:
1
ON-CAMPUS STUDY IN AUSTRALIA
Studying on-campus offers a great many advantages. Having full access to experienced teachers along with exposure to other activities including sports, public clubs and groups, students support services etc. are some of them. Studying is Australia gives you an opportunity to explore the cultural diversity in Australia and travel across the continent at cheap rates. Also, there are many deals available for students. Some universities have student exchange programs which help you to get transferred between campuses and explore the parts of Australia.
The Australian universities are spread all across the nation with many universities having multiple campuses. Thus, students don't find it tough to locate a campus that suits all the needs of the students. Many universities in Australia have dual-sector status; these universities provide both Vocational Education and Training (VET) and higher education options.
Australian lifestyle is very famous and the high living standards are an additional benefit of studying on-campus. The Australian education system and its approach is recognized worldwide.
2
STUDY ABROAD AND STUDENT EXCHANGE PROGRAMS
This program provides students with benefits of on-campus study and also doesn't keep them away from their family and friends for a long period of time.
In the study abroad and student exchange programs a student  comes to Australia for a short period of time and completes one or two semesters and then return back to the native country. In this program the students needs to continue paying to the university in the home country. The fees are to be paid to Australian institution if the student accepts a study abroad place.
3
ONLINE AND DISTANCE EDUCATION
If a student is unable to move to Australia, online or distance education is a perfect opportunity. Many universities, TAFE institutes and private colleges provide online education. Apart from the courses that require face-to-face instruction, online and distance education is available for all the courses in Australia.
There are various options of course delivery, these are:
Completely online study
Getting study material delivered at home
Combining studies at home with occasional visits to partner institutions
Face-to-face online sessions with teaching staff of the university
Originally posted 2018-04-28 07:14:15.