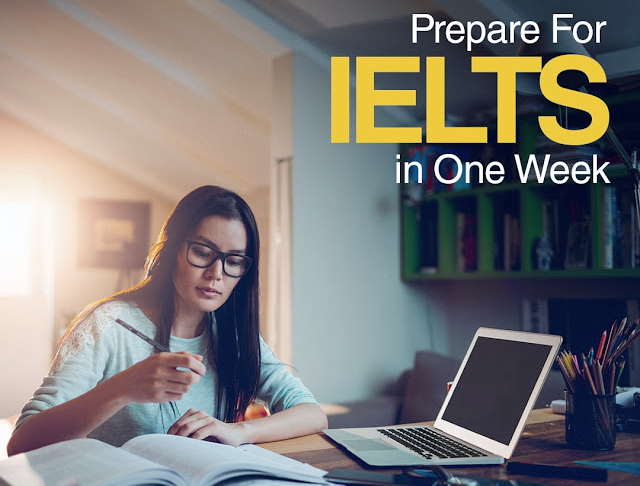 Preparing for IELTS exam is not as easy as many students think. It requires proper time and efforts to get the desired score in the exam. Many students ask for tips and tricks to clear IELTS exam that is scheduled just a week away. Getting high band in IELTS exam requires time, hence chances of getting the high band is very low.
Why it is difficult to score a high band in IELTS exam with a week's preparation:
The two factors to take into consideration are; General English ability and test skills. There are many tips and tricks available on web to boost up your score, but primarily your general English skills should be up to the mark. The tips and tricks available online, for IELTS test can help you enhance your grammar and vocabulary for IELTS Writing and Speaking sections, but surely not in a week. Talking about other two sections of IELTS exam viz. Reading and Listening; it is very doubtful to boost up your pronunciation and other skills.
The IELTS exam judges your English ability under four sections, viz. Writing, Speaking, Listening and Reading. You have to get acquainted with all the four sections and boost up your skills. For example, 10 types of reading questions can be framed and any one of these can come in your test. All the different types of questions require different strategies and skills. To get well versed with all of them, as well as the other sections, plenty of time is required.
Also, in writing task 2, there are as many as 5 unique types of questions. For example, one kind of question in IELTS Writing task 2 is Advantages and Disadvantages, but there is not just one structure that you can't memorize, since there are further three types of Advantages and Disadvantages questions and all require a unique approach.
Things you can do
You can take two of the given choices:
If you have monetary support then you should appear for the exam. Since, this will give you idea about the exam and you'll be able to perform better in your next exam.
If you have money issues then you should probably try rescheduling the exam to another flexible and reasonable date.
GOOD LUCK!
Originally posted 2018-04-20 16:51:24.