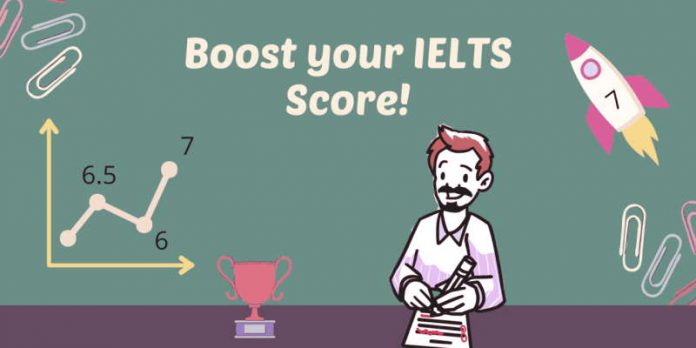 Rajinder is one of my good friend, who was preparing for his IELTS. He had already taken the IELTS exam twice and his score did not meet the requirement which was band 7.5 overall, with a minimum of band 7 in each section. Though his listening and speaking section were good, but reading and writing were jammed at 5.5 and 6 respectively.
Rajinder's 3rd IELTS test was scheduled just a month away. Here are the steps Rajinder followed to move his IELTS band score from 6.5 to 7.5 in just 4-weeks.
During the rigorous training, his reading improved remarkably. He put into effect the following points to improve his IELTS reading band:
Cutting down the amount of time spent on reading the passage.
Enforcing the technique of skim and scan and revolving around key-words.
Binding one minute to each question.
The improvement in writing section was difficult to accomplish. In spite of the intensive practice, the growth was slow. To improve IELTS writing band score, one requires adapting the following things:
Forming complex sentence structures
Using good vocabulary
Avoiding grammatical errors
But interference from the native language generated most of the grammatical errors in his writings. As he recognized the reasons behind these errors, he was able to improvise them. Another setback that Rajinder faced in IELTS writing section was the tendency to think of ideas in native language. Translation of these ideas in English has almost never been helpful. Often the ideas don't come out as intended; it's either expressed as something unclear or as something strange. The key here is to use sentences that you know or to find an idea that you know how to express.
As he had little time, the strategy he put into effect was to use simple sentences and joining them with different linking words and enhancing the overall structure with adverbs, adjectives and modifiers. To improve the total outlook of task 2, to get IELTS band 7, he introduced the usage of passive and modal verbs. For task 1, high range of vocabulary is necessary for interpreting the data presented; be it graphs, maps, data or diagrams. Keeping the basic sentence structure simple helps attain clarity, the sentence can then be enhanced with lexical devices.  With all these preparations, Rajinder appeared for the IELTS exam. There was a drastic improvement in reading section, from 5.5 to 7. Though writing section showed improvement from 6 to 6.5, yet it was not satisfactory. Making a big difference in IELTS writing section in just 3 days was virtually impossible. But there was still a ray of hope.
The next IELTS exam was scheduled after 10 days. Again 10 days were too less, writing might take longer but the test was booked. Rajinder found even the initial reading and writing task difficult to comprehend, but eventually his skills got better. Writings were now easier to write, had less errors, great usage of vocabulary, better sentence structures and better template to tasks. His writings were all set for scoring a band 7.
The IELTS test day arrived; on contrary to the expectations, he performed well in the writing section and expected no more than band 5 in reading. This was too disappointing as the reading was excellent in his practice sessions.
The day of the results arrived. It was beyond expectations, Listening and Speaking 7.5, Writing 7 and Reading an amazing band 8.
IELTS is possible for everyone; all you have to remember is to:
Be persistent and keep going.
Take your mistakes positively and work on them.
Maintain confidence.
Get support from people who know the exam.
Originally posted 2018-03-21 15:27:29.