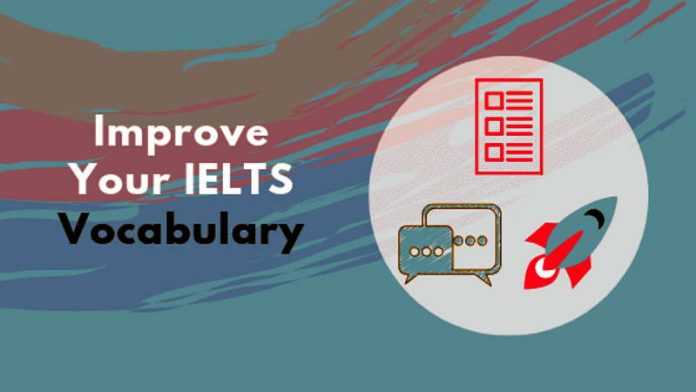 There is no specific section in IELTS exam for judging your spelling or vocabulary. Instead, both of these parameters are assessed in every part of your IELTS test. A proper grasp of vocabulary is, without doubt, an important criterion in IELTS test. Not only does vocabulary make up 25% of your marks in IELTS Writing and Speaking, but it also plays a crucial part in IELTS Listening and Reading.
However, a majority of IELTS learners either don't focus on their vocabulary or don't build it up in the required way. Learning by memorizing is, in essence, most absurd way of increasing your vocabulary. Scientific research shows, an average of 15 to 20 repetitions are required for a person to put a word from foreign language in their vocabulary. Learning by context, basically means that they don't completely expose the words within a sentence and paragraph, thereby not figuring out how to use them properly.
Each section of IELTS features either academic vocabulary, conversational vocabulary or a combination of both.
Here, are 3 Strategies for IELTS Vocabulary to Build an Invincible Vocabulary for IELTS and Boost your Band Score:
Most vocabulary words are learnt from context. Keep your ears open to new words and phrases, try to figure their meaning out from their usage and then look them up. Written below are three ways to learn random words:
Look at the leaflets and instructions in the product packages. Look for the words you don't know and try to learn them. Don't just learn these words but look for their usage as well. You may find many health or education related words or even scientific words.
Whenever you have time to spare, look around to see how many words you do not know. Make a list of these words, look them up and try to learn their meaning and usage. Some of these words may turn out to be helpful in your IELTS Listening.
Pick a TV show, radio, podcast, magazine or a book, look for words in them. The more words you are exposed to, the better vocabulary you'll have.
There are many word lists available online. Manage these lists into chunks and try to study them. Soon you'll be remembering a lot of words. Put into action the following process:
Target: Set yourself a target for a week according to your capabilities. Try to learn that many words in the week.
Make your own list: Make a notebook of your own words. Write every new word in that notebook. Physically copying the words will help you remember them. You can also copy them on a chart or on your phone or in a book, where you can see them every day.
Revise daily: Revise these words daily to make them permanent in your vocabulary. Also write them down for remembering the spelling.
Usage: If you are writing a task, try to use them in your task. Using words helps you remember them. Make sure you look at the different forms of the word, such as the noun and verb form. Once you have a good foundation of words, you can progress to studying collocations and phrasal verbs to increase your range of vocabulary.
IELTS course books have many vocabulary related tasks. There are online exercises that will help a lot with usage. You can also go for vocabulary increasing books. These are easily available in libraries.
This 3-step plan can help you increase your vocabulary effectively. Try to find more ways that work best for you and get your hands in learning new words daily.
GOOD LUCK!
Originally posted 2018-03-15 16:45:48.