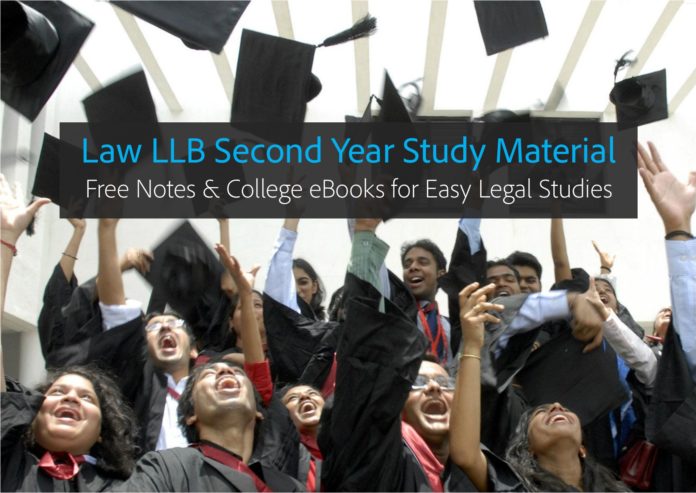 Bachelor of legislative law or (LLB) is one of the popular options to make a career in Legal Profession. It is a graduate course degree of 3 years which includes 6 semesters.
There are a huge number of opportunities for law graduates and this field is not just restricted to practicing as an advocate in a court or corporate firms. Opportunities include: teaching in colleges, working with NGOs, working as a reporter for newspapers and television channels etc. are some of the other options that one can opt for after successful completion of LLB course.
Several second-year LLB students who are also a member of our Free Online Law Students Community, connected with us and have complained about the lack of quality and incomplete content in available online study material for LLB second year.
So, to enrich you in your LLB second year studies, we requested some LLB seniors to share their notes and college eBooks. As a result, we have a collection of study material notes and eBooks of LLB second year subjects. You can easily follow the links below and access all the study resources on the LLB Forum on Studynama online Community.
List of LLB Second Year subjects for which free LLB lecture notes are available on Studynama:
These above links have been shared by students studying LLB second year across good universities in the country. These notes might help you in scoring good marks in your exams and will also enhance your knowledge of LLB subjects.
In case you have any questions or queries, please feel free to comment below. You may as well put down a request for any specific subjects' study material to be added as per your requirement. We hope this post and the study material on Studynama L.L.B community will be helpful in your LLB second year studies.
Originally posted 2018-04-21 11:21:18.