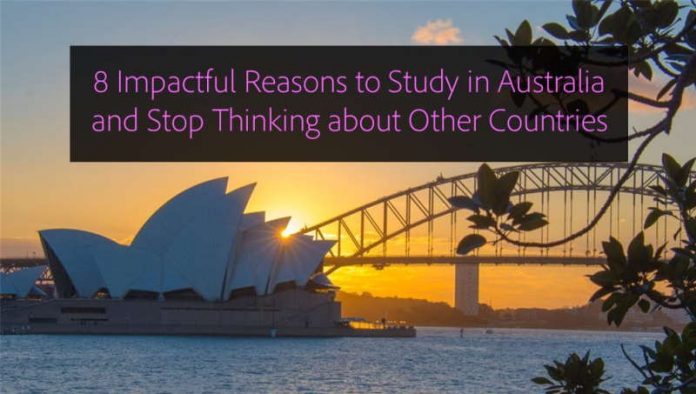 The land of kangaroos, Australia, is one of the most chosen countries for education purposes amid Indian students. The friendly, laid-back nature of the country attracts many international students. Along with the high standard of living the country also possesses an admirable education system thus harboring third largest population of international students in English-speaking world behind UK and USA.Over 22,000 courses are taught across 1,100 institutions in Australia. Seven of the top 100 universities of the world are based in Australia.
Given below are 8 impactful reasons why you should study in Australia and stop thinking about other countries
The unique education system of Australian universities has an exceptional approach towards technical and vocational segments of education, earning high recognition as one among the best and most pioneering approaches across the world.
2
International Reputation
Australia enjoys an international reputation of delivering practical and career accustomed training, thus giving the graduates confidence of their skills. The universities are also known for their ability to adapt new technologies faster and better than other nations in the world. The infrastructure and other teaching related facilities are top-notch.
An Australian government authorized system; Australian Qualifications Framework (AQF) covers most of the courses and training. Hence, Australian qualifications are acknowledged by all the leading educational institutions across the globe.
The country's national quality assurance system is extraordinary providing an array of services and monetary fortification, both to the students and parents.
Everyday expenditure and tuition costs are cheaper in Australia than in UK and USA. It is more suitable due to cheaper conversion rates. International students can also work part time, thus giving them chance to make up for their living costs. Also, numerous scholarships available in Australia lessen the burden on your finances. Australia offers more scholarships than other countries.
Australia is a multicultural society, welcoming the communal and cultural diversity brought in the campuses by students from overseas. Safety and harmony in the Australian communities and cities is top-notch. Students from over 200 countries make Australia one of the most socially diverse nations. English is the primary language in the country and teachers are well trained to teach the class with diverse students in friendly accents.
Australia offers job opportunities in multiple disciplines allowing ample growth. Receiving a job permit for international students is also easier and more convenient.
Eligible professionals are offered a plethora of research opportunities including country-based research which is spread across the continent. Students can accomplish their research candidature only by passing through a strict selection procedure. The selection is merit based and takes into consideration a verified track documentation of academic excellence.
The education pedigree of Australia is highly impressive and has given 15 Nobel Prize laureates to the world. Hence, study with the best minds of the world and choose Australia as your education destination.
GOOD LUCK!
Originally posted 2018-04-20 17:27:28.