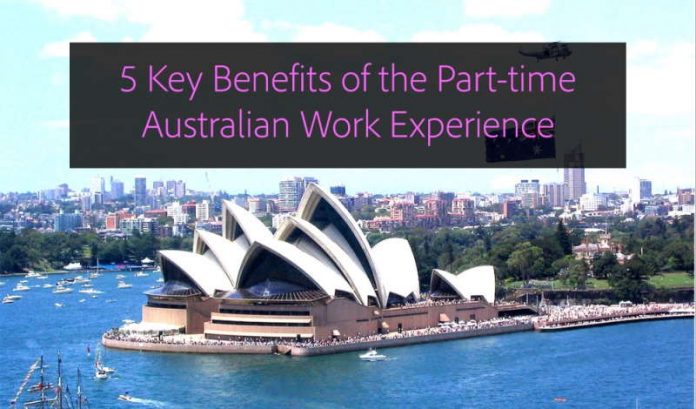 Apart from the work registered as the part of course, a student is allowed to work for 40 hours in a fortnight (14 days- starting on Monday and ending at next Sunday).A student is permitted to work more that 40 hours per fortnight only during the tenure of holidays registered by the university/institution/education provider. These work limits do not apply, if the student is pursuing Masters by Research or Doctorate Course in Australia. These jobs not only provide students with extra spending money but also come with many advantages.
Listed below are 5 key benefits of the Australian work experience for the Indian students:
EXTRA SPENDING MONEY
With the decision to study abroad come financial challenges. The total cost of living is to estimated to be INR 10,00,000 per year. Paid work offers additional money that can be used to cover social catch-ups or to travel around Australia. Some common jobs for Indian students in Australia include:
University or school tutor
On campus jobs e.g. university library assistant, university pool lifeguard
Retail sales assistant
Waiter or bartender
Call centre staff
Internships
IMPROVEMENT IN ENGLISH PROFICIENCY
Working in Australia can help a student from non-English speaking country to improve general conversational and English language skills. Using English language out of the academic perspective can help a student greatly.
IMPROVISING RESUME
General work place things like handling cash, chatting with customers, working with a team can optimistically help a student improve his/her soft skills. These skills are utterly beneficial and can help improve your career. The valuable work place experience and improved personality are important to potential employers as it portrays that the person is efficient and capable.
INCREASING INDUSTRY NETWORKING
Part time jobs help you create a network of your own contacts. If the student is employed in the sector relevant to the course, he/she will be able to put the learnt skills into practice and create a priceless network.
MANY SOCIAL OPPORTUNITIES
Be it any part time job through freelance writing for communications, babysitting or childcare centre work for teaching, or market research for business, it offers relevant experience. Socializing away from campus can serve as a great way to improvise your overall personality and make a new circle of friends. Relevant contacts can help you at any point of life ahead.
Originally posted 2018-04-28 07:56:45.