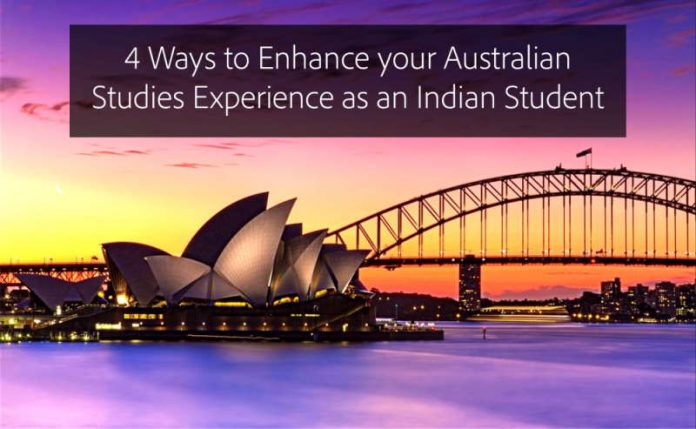 Studying overseas not only ensures high quality education, better job prospects and high standard of living but also enhanced personality and overall development. It's not just about writing assignments and attending classes but also getting out of your comfort zone making new friends and experiencing what you have never before. There are surfeit of ways you can enhance your Australian studies experience.
Listed below are 4 ways to enhance your Australian studies experience as an Indian student:
1
JOIN STUDENTS' ORGANIZATION 
There are many clubs, students' organization and societies which give an amazing opportunity to interact with people coming from different backgrounds and interests and make friends. These clubs and societies are known to have an affirmative impact on a student's life. These clubs can enhance your extra curricular skills and give you an enriching experience. You can even cater your own club.
2
JOIN PART TIME JOB TO GAIN WORK EXPERIENCE
Australian student visa allows a student to work for 40 hours per fortnight apart from work registered as the part of course. Being employed in these part time jobs provide a stirring experience and can help inculcate valuable soft skills. Some key benefits of the Australian work experience for the Indian students are:
Extra spending money
English language improvement
Improved resume
Industry networking
Social opportunities
3
TRAVEL TO DISTINCT PLACES IN AUSTRALIA
Australia has colossal sceneries and a vast number of attractions. In free time, or holidays, one can always go to short road trips, holidays interstate, visits to local attractions etc. These attractions are spread across varied degrees of budgets and interests. From spending some time in a new city or to exploring country's authentic landscapes and natural wonders, Australia has a lot to offer.
Volunteering is always a gratifying experience. If you have some time to spare, you can always volunteer in areas you are zealous about. Volunteering on campus or in organisations, including charities, festivals and events, and community groups, can be beneficial for you and enhance your experience in Australia. You can also work for industries you have been dreaming to work in after education and apply your skills to practice.
Originally posted 2018-04-28 08:31:54.