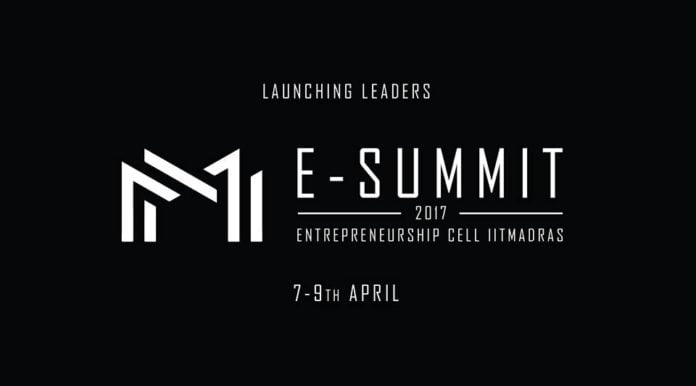 About E-Summit: E-Summit is the 3-day annual flagship summit of E-Cell, IIT Madras.to be held on 7th to 9th April, 2017. E-Cell's mission has always been to inspire students to take on challenges, in order to successfully launch and run their ventures. We aim to unlock students' latent inventive potential by connecting them to other entrepreneurial resources and help in sustaining the entrepreneurial spirit. The summit is designed to inspire students to experience entrepreneurship, and nurture student entrepreneurship across various stages, right from innovation and ideation to acceleration and incubation.
Event Details/Highlights
Events and Competitions:
Lecture Series:
Padma Shri Ashok Jhunjhunwala: Professor of Electrical Engineering, IIT Madras| Advisor to Minister of Power and MNRE, Government of India
Ritesh Agrawal: Founder and CEO of OYO rooms | Thiel fellow
Siddharth Pahwa: Ex-CEO, Meru Cabs | Finance Director Unilever (Bangkok)
Nandini Vaidyanathan: Author of "Entrepedia" and "Start Up, Stand Up" | Founder and CEO, CARma connect | COO, UTV movies
Saket Modi: CEO, Lucideus Tech| Man Behind the Security of 'BHIM' app | Forbes Asia 30 under 30
Harsh Songra: Creator of MyChild App| Forbes India 30 under 30 | TEDx Speaker
Aditya Agarwalla: CEO of Kisan Network | Forbes Global 30 under 30 | Y-Combinator Incubatee | Thiel Fellow
Anurag Batra: Owner of BW Businessworld | Serial Entrepreneur and Media Mogul
Abhinandan Balasubramanian: Founder Premeir Futsal, AltFlo and ChefHost | Forbes India 30 under 30 Hari Nair: CEO, HolidayIQ | Ex-Partner KPMG
Navi Radjou: Author of "Frugal Innovation" and "Jugaad Innovation" | Fellow of University of Cambridge's Judge Business School
Ranjan Malik: Innovation Specialist at Apple, Microsoft, Speaker and Writer of the Storm the Norm
Internship Fair:
Our Internship fair is aimed at bridging the gap between the available talent (the institute students) and its demand in startups. The internship profiles would be diverse and encompass all major sectors, with multiple startups being called for the same profile to increase student options. The Internship Fair has received interest from over 600 institute students and is a host to over 125 vacant internship positions at over 25 startups such as Furlenco, Drivojoy, Detect Technologies and BoxMySpace among others.
Workshops
Design Thinking
Business Model Canvas
Business Strategy Mapping
E-Cell is conducting a series of workshops aimed at honing your entrepreneurial skills and crucial elements involved in business building. Each workshop is conducted by an expert in the business area offering participants a new perspective on the topic.The workshop is ideal for the budding entrepreneurs who would like to get exposed to new skills and ways of looking at entrepreneurship.
BootCamp
The BootCamp, a mentorship program inculcated within a B Plan modelling competition, in which teams of 4 or 5 present their prototype on day one and are guided by master strategists and mentors who direct them from prototype stage to a product stage while outlining their efforts by associating a business model with their product. It has received around 85 interesting applications. 26 teams are currently undergoing a 3-week online mentorship session, out of which 9 would be chosen for the final competitive mentorship sessions.
PitchFest
The Pitchfest has been given a unique structure to cater to the ones who are actually in need of such an event. This event aims at providing incubation and early stage funding opportunities to all those student entrepreneurs who are in genuine need of such facilities. The applications for the pitchfest have been rolled out and we have received over 90 applications from all over the country. The Pitchfest will act as a networking platform for startups, incubators, accelerators and angel investors from all across the country to find synergies and help startups find potential investors or incubators.
Unconference 
The Unconference, which we envision as a standalone summit in itself, a 3-day entrepreneurial extravaganza designed to take the participants on a journey where they understand the bits and pieces of developing an enterprise. It is themed around a case study based approach where they innovate and iterate to solve some of the most pressing problems faced by India today in areas like Education, Agriculture, Healthcare and Smart City. Unconference will include a series of workshops, focused talks, mentoring sessions & an interactive Startup Walk to aid them in this process. The objective is to set a framework for them to take up any problem and solve with the correct entrepreneurial approach.The Unconference has received over 300 applications from all around South India. We have had a 3-stage filtering, involving an initial shortlist followed by an application round and then a personal interview of the aspiring participants, to ensure that we bring the best talent together to work on the most pressing problems faced by India today in areas like Education, Agriculture, Healthcare and Smart City and propose tech-enabled solutions to the challenges they have identified.
BizQuiz
A competitive yet fun event, BizQuiz is a must in check-list of every quizzer awaiting for the glory. One of the most crowded events at the last E-Summit it was a huge success and was conducted in collaboration with Quiz foundation of India, with Dr. Navin Jaykumar as the QuizMaster.

Panel Discussion
Colossal interactive event in which experts from diverse background expose the audience to sundry viewpoints on an entrepreneurial topic sharing with them all-round knowledge combining with their valuable experience in the field to put forward a healthy debate with much food for thought and bring out the uniqueness in every aspect of entrepreneurship.
FAQs:
How do I pay the registration fees?
Registration fees need to be paid on your arrival at the Registration Desk during E- Summit'17 via debit/credit card only.
Will I get a certificate for attending E-Summit'17?
Participating in a workshop yields you a certificate. There are three workshops, so you have a chance of getting 3 certificates. These certificates will have the logo of IIT Madras and the company conducting the workshop.
Do I need to pay extra fees for workshop/entertainment show/Business Quiz when I have paid the registration fees?
No, your registration fees allows you to attend or participate in any event during E- Summit'17.
Where is the Registration Desk set up in E-Summit'17?
Registration Desk will be set up in the lobby of IC&SR Building (200 meters from Gajendra Circle).
What time does the registration starts?
The registration starts at following time during E-Summit'17:
Day 1, 7th April'17: 4:30PM
Day 2, 8th April'17: 9:00AM Day 3, 9th April'17: 9:00AM
How do I reach IC&SR Building from IIT Madras Main Gate?
You can take the institute bus from IIT Madras Main Gate which runs at a frequency of 15mins and drop off at the IC&SR bus stop.
Will Accommodation and food be provided?
Yes, we will provide you with these facilities in IIT Madras campus during E-Summit'17. Accommodation and food charges are not included in the registration fee. Accommodation will be provided at a rate of 200 INR per person per day, with an extra 300 INR as security deposit with respect to availability of rooms. The allotment will be on first come first serve basis for people coming from outside Chennai while people coming from Chennai will be given less priority for accommodation.
Contact and Registrations: Aman Verma | +91 97898 17952 | [email protected]
To register for the event, fill this form.
To Know more about E-Summit click here.
To register for Internship Fair click here.