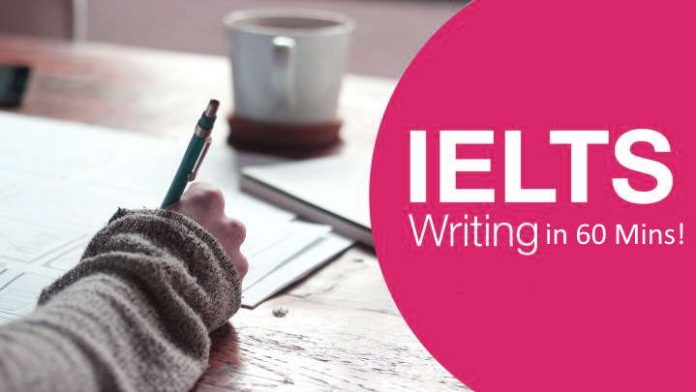 IELTS writing exam is an area where students are up against the clock, which causes unwanted stress and worry. 60 minutes and 2 tasks to complete can be a daunting and tiresome charge to comprehend. It is important to complete the exam on time and to check your answers before submitting. Most students who score a Band 7 and above are able to plan, complete and review their exam within the given 60 minutes.
It is important to understand that the IELTS Writing section  requires you to manage your time in such a way that your prime focus is on the grammatical and analytic aspects. It may look difficult to focus on vocabulary, grammar, content ideas and time management, but these are all important aspects and equally vital to score the desired band score. If you work systematically and follow the below 7 tricks, you will be able to complete IELTS writing section within 60 minutes and get a desired Band score as well.
7 Tricks to Complete IELTS Writing Section in 60 Minutes:
1
VOCABULARY AND SENTENCE STRUCTURE
The IELTS expects you to use formal language. Write in complete sentences and don't use slangs. Focus on vocabulary and sentence structure. Examiner wishes to see certain aspects which include spellings, punctuations, grammar and vocabulary. Other than this organization of essays and interpreting the questions are important in judging the application of English. All of these things are skill based, the more you practice, and better your skills will be.
Choose correct linking words to form complex sentences.
Create a bank of conjunctions and make sure you know how they work.
Organize your ideas into paragraphs.
Try adding a descriptive statement that expresses the ideology that you are going to introduce in each paragraph. Each paragraph should have its individuality, i.e., in order to be understood, it should not be dependent on preceding paragraph.
You'll get awarded with bonus points if you paraphrase each time you mention it. Also, use transition sentences to connect two stages. It may refer to what has already been written or what comes next.
Avoid repetition of ideas by using different words and repetition of words to illustrate dissimilar ideas.
These tools are important in creating coherence and cohesion.
The techniques are extremely positive in producing a perfect framework and score good result. But, remember practice is the key here. Just knowing the techniques won't serve the purpose, practicing it will help you inculcate them as your regular habit and hence help you in exams to manage time and spare time for checking.
Identifying your own mistakes is an impossible task to perform. It doesn't have to be necessarily a teacher but someone really good at English. Evidently, an IELTS teacher is the best choice, since the teacher can give you appropriate reasons for these mistakes, which can help you eliminate them in future. The teacher can introduce you to new sentence structures and vocabulary.
Writing speed varies from candidate to candidate, hence allocation of time to each task differs. Preferably give 20 minutes to task 1 and 40 minutes to task 2, since task 2 is worth twice as much as task 1.
Planning forms an integral part of essay writing, it not only helps you write faster, but also control over every part of the task. Take around 2 to 10 minutes to brainstorm and map out the whole article. Generating ideas before writing ensures that you don't divert from what is actually expected from you, and also gives you time to concentrate over vocabulary, punctuations and grammar during writing. Hence, identify the key words and don't avert from them.
IELTS exam can be awfully panicky due to the division of sections. Writing section in particular can be nerve-racking due to:
The hectic listening and reading sections.
The hanging clock.
IELTS, the name poses pressure itself.
The stress can perforate your abilities and your write-up can come up to be absolutely wrecked, not at all aligned with your expectations. One way to overcome this is to beforehand think of the skeleton of your article. Appear in the exam with well-read phrases, words and sentence structures. This will give you standby time which can be really helpful. Just knowing what to write and opening your language bank, the moment you get the questions can gear up your work and help you score well.
Mistakes are easily made while writing, especially, when you are a under lot of pressure due to reading and listening section. Spend a few minutes re-reading the essay looking for a forgotten article, wrong preposition or spelling error. Many students complain of not having enough time for checking. This seems like a silly excuse, since it is of utmost importance to check what you have written. Here are some points to spare time for checking:
Having a perfect framework and planning in advance can help you save time for checking.
At the inception of the task, divide your time for planning, writing and checking, stick to it.
Have a good idea of all the sentence structures and vocabulary you are going to use; this will help you immensely in writing faster.
GOOD LUCK!
Originally posted 2018-03-10 12:19:51.