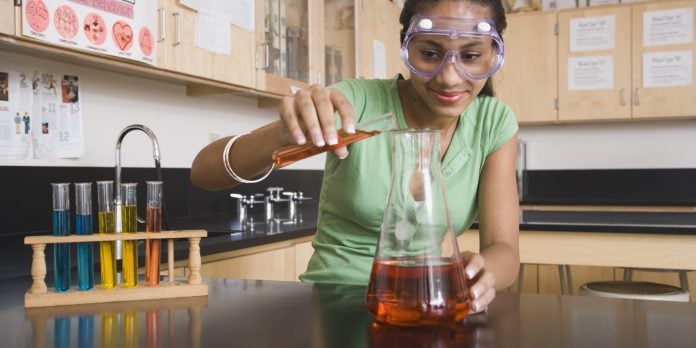 If you love to know the scientific facts, if you believe in experimenting, if you like to play with numbers and calculations, then science is definitely your cup of tea. Studying science in classes 8, 9 and 10 may have given you an idea of what wonders this subject can make you do.
It is rightly said – science is  boon to mankind. Today's generation which is said to be a 'technical generation' may have been impossible without science. So, if you plan to do something new, something great, something different then opt for science as your core subject.
In essence, science comprises of two streams – medical and non medical. If you plan to pursue medical science after class 12th, then you should opt for biology, physics and chemistry (PCB) as your core subjects. For students who plan to excel in the field of engineering should opt for physics, chemistry and mathematics. (PCM). There are some students who opt for physics, chemistry, biology and maths (PCMB) in order to appear for entrance exams of both medical and non medical streams and to enhance their chances of admission to a good college.
Medical science – It is a study about living organisms, diagnosis of diseases in them, their treatment as well as their prevention.
Engineering – It is a study including calculations and application of scientific method for the sake of development and invention.
Below mentioned are some important topics for the subjects physics, chemistry, mathematics & biology that students are expected to learn and understand. This may give you an understanding of these subjects and help you decide your subjects and career stream.
Important Topics in Physics

Motion
Vector
Speed, distance and time
Energy
Dimension
Modern physics
Magnets
Statistical Physics
Nuclear Physics
Elementary Particles
Optics
Electricity
Current electricity
electrostatics
Sound
Light
Important Topics in Chemistry

Organic Chemistry
Inorganic Chemistry– it is study of compounds , elements and matter
Physical Chemistry– It is about physical properties of elements and mole concept
Important Topics in Bio-science

Botany- It is the study of plants including Autonomy, Physiology as well as living world.
Zoology- Is the study of animals, their nervous system, ecosystem, reproductive system and genetics.
Important Topics in Maths

Algebra
Differentiation & Integration
Calculus
Statistics
Vector
Geometry
Trigonometry
Careers in Science
Science students have many career options such as:
Medical
MBBS ( Physician)
BDS (Dentist)
BAMS (Aayurvedic)
BHMS (Homeopathy)
BUMS (Unani)
Sc AH (Veterinary & Animal Husbandry)
BNYS (Neuropathy & Yoga)
BMLT (Medical Lab & Technology)
Engineering
B.E.
B.Tech
B.Arch
B.Sc
Bachelors of physiotherapy
Bachelors in nursing
Bachelors of Pharmacy
Bachelors of science
Bachelors of law 
Vocational courses
Fashion technology
Hotel management
Business management
Film & Media courses
Animation courses
Bachelors of computer application
Masters in Business Application
Diploma courses
Graphic designing
Dress designing
Information technology
Aviation courses
Event management
Job Opportunities for Science students
Science students have several options for job based on their education courses after class 12. They may opt for any stream they find interesting as their earning option. Along with medical and engineering, science students can be a master of many other streams. If a student attains at least a bachelor degree; he/she becomes eligible for applying jobs to many sectors such as:
Teaching sector
Banking sector
Multinational companies
HR
Aviation sector
IT sector
Astronomy
Management sector
Forensic science
It is important to remember that science is everything which is based upon logic, deep observation and experimentation. It is full of inventions and exciting information, which may fill you with astonishment. In terms of career options and job opportunity science opens up many doors in different sectors. Students pursuing science as their core subjects should understand that it does not involve mugging up of theory, but one has to be fluent with adopting things in practical life too.
Originally posted 2016-07-26 12:19:42.