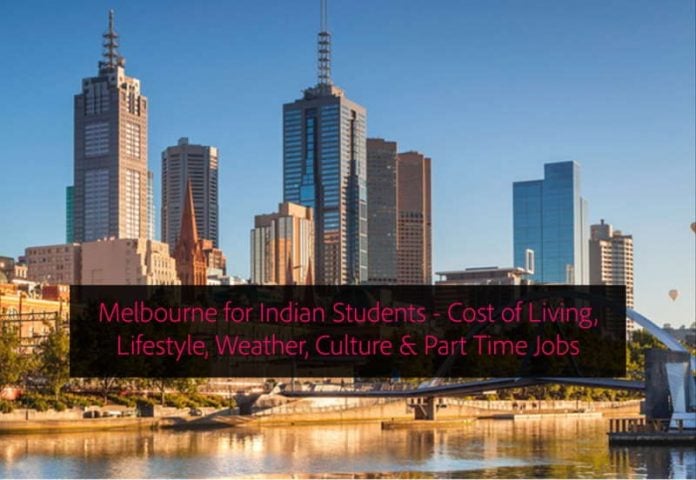 The cultural and sporting capital of Australia, Melbourne, is the second largest city of Australia. The four million people residing in the city are legitimate lovers of both arts and sports. The city is also well known for its night life and finest dining. Melbourne is one of the most livable cities in the world from economist's point of views. The weather changes in Melbourne are expectant and the city is also known for having "four weathers in a day". Melbourne too like Canberra has low unemployment rates and hosts many industries including that of aviation, education, information and communication, building and construction, nursing and healthcare and finance. There are excellent career advancements in the city.
Listed below is Indian student's guide to cost of living, lifestyle, weather, culture & part time jobs in Melbourne:
1
COST OF LIVING IN MELBOURNE FOR INDIAN STUDENTS
With the decision to study abroad come financial challenges. It is important to estimate the living cost before shifting to a foreign city. The task is always not an easy thing to do. Fortunately, Australian government proposes an average estimation of living cost for international students. The figures may vary from person to person; however, they still serve as a rough estimation for cost of living.
Accommodation (house and apartment rentals) — INR 8,250 to 22,000 per week
Groceries and eating out — INR 4,000 to INR 14,000 per week
Public transport — INR 750 to INR 2,750 per week
Phone and internet — INR 750 to INR 2,750 per week
Entertainment — INR 4,000 to INR 7,500 per week
The total cost is to estimated to be INR 10,00,000 per year.
2
PART TIME JOBS AS A STUDENT IN MELBOURNE
Apart from the work registered as the part of course, a student is allowed to work for 40 hours in a fortnight (14 days- starting on Monday and ending at next Sunday).A student is permitted to work more than 40 hours per fortnight only during the tenure of holidays registered by the university/institution/education provider.  These work limits do not apply, if the student is pursuing Masters by Research or Doctorate Course in Australia.
Some common jobs for Indian students in Australia include:
University or school tutor
On campus jobs e.g. university library assistant, university pool lifeguard
Retail sales assistant
Waiter or bartender
Call center staff
Internships
3
UNIVERSITY LIFE IN MELBOURNE
UNIVERSITIES IN MELBOURNE
Melbourne stages 8 universities that are placed in QS World University Rankings for 2018. Some of the universities in Melbourne are:
La Trobe University
Monash University
RMIT University
Swinburne University of Technology
University of Divinity
University of Melbourne
Victoria University
UNIVERSITY GROUPS AND SUPPORT
Universities in Melbourne do not just provide students with bookish knowledge but also plethora of opportunities that have life changing impact on student's personality.
O-weeks or orientation weeks are planned by universities in Australia, these weeks help students get habituated with the university. Numerous activities are organized to get students accustomed to the university campus and also with their peers.
All universities have many students organization, clubs and societies. While some of them are courses, languages or sports based, others are just a bunch of people sharing common interests.
International students are often offered additional services along with health care and counselling. The university support system is another advantage of studying in an international Australian university.
TRANSPORT
Trams are the highlights of Melbourne but train and bus services are also available in the city. The Public Transport Victoria network is well linked to the universities.
A person needs to possess his own Myki, a single travel card that works on trams, train and buses, to use public transport. Another attractive feature is that all international students are entitled to an iUSEpass which permits students to obtain Myki at a discounted price. Annual Myki costs INR 79,950, however international students can obtain it with an iUSEpass at a discounted rate of INR 39,975 only.
Within city center trams are free and a 24/7 service of public transport is provided even on weekends.
5
SAFETY AND SECURITY IN MELBOURNE
Economist says, Melbourne is the fifth safest country of the world as per records of 2017. It has low crime rates and political stability.
Melbourne also has Protective Services Officers, employed to patrol public areas as a part of great public transport safety initiative.
The weather of Melbourne is fairly unpredictable. The city faces some days of four distinct seasons. The winters of Melbourne are frosty; average temperature to be estimated as 10 degree Celsius. Average temperature of January is accounted to be 21 degree Celsius.
Australia has a multicultural society and Melbourne's culture revolves around music and art. Live music can be found in any part of the city and art is not just confined in the walls of museums but some of the wonders are found on the streets.
Melbourne has a lot to offer and holds in something for everyone. The warm culture of the city becomes homely to international students.
Originally posted 2018-04-28 06:38:18.