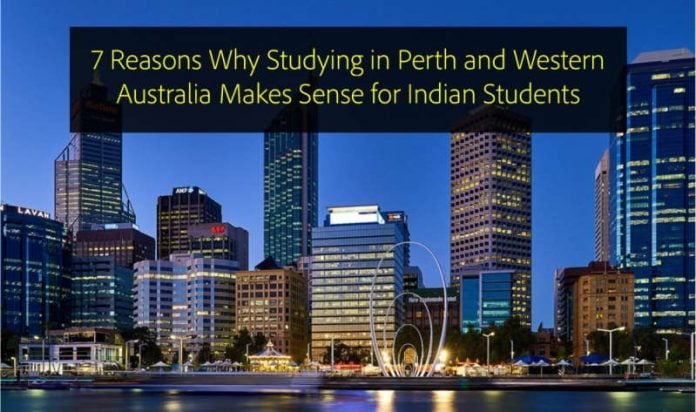 Perth, the world's fourth "most liveable city", is the capital of Western Australia (abbreviated as WA). Western Australia gives an authentic Australian experience and the state covers the western third part. Famous for long sunny days, brilliant blue bleaches, it has achieved recognition globally for its low unemployment rate, roaring economy and sophisticated development in various sectors including science and technology.
Like rest of the Australia, Perth harbours enrollments from 140 countries annually, attracting over 42,000 students towards its exclusive learning environment.
Listed below are 7 Reasons Why Studying in Perth and Western Australia Makes Sense for Indian Students:
The quality of of scholarly programs is much superior in Perth and Western Australia. Education system of WA's is globally recognized as one of the finest. The array of world class universities, schools, institutions and English language colleges, based in WA are best in their class and have a unique approach towards technical and vocational segments of education, earning high recognition as one among the best and most pioneering approaches across the world.
Perth is regarded as the world's fourth "most livable city" and is famous for its friendliness. The high standards of living provided by the city come along with affordable cost of living.  A 40 per cent discount is available on all public transport for all International students and bus services are free within Perth's city centre! The Mediterranean climate, less population and less traffic add up to make Perth a preferred city among Indian students. The low crime rate in comparison to other states of countries satisfies the security concerns of the parents.
WA proffers plethora of opportunities in the field of science. The five universities of the state offer the aspiring scientist the edge career-wise. The aspirants get to take part in world class, life changing science projects including clean water production, development of new vaccines.
4
Multicultural state in Australia
Perth is a multicultural society, welcoming the communal and cultural diversity brought in the campuses by students from overseas. Safety and harmony in the Australian communities and cities is top-notch. Students from over 200 countries make WA one of the most socially diverse states. Many cultural groups are being formed in the state coming from different nationalities. Many places of worship and array of venues catering specific religions are also based in Perth.
The student visa allows a student to work for 40 hours per fortnight. There are a lot of jobs available in Perth in sectors of administration, communications, hospitality, housekeeping, retail and tourism. This can help students earn some spending money.
WA creates 30% of nation's export returns with only 10% of country's population. Being the fastest growing economy of the country, WA encompasses sky-scraping quality and high paid jobs and continues to have the lowest unemployment rates.
The state is bounded by Indian Ocean to the north and west and southern ocean to the south. Perth is very calm and also harbors pristine beaches. The state has more sunshine than any other state in Australia and the weather allows numerous outdoor activities including surfing, paddling, rowing, kayaking, snorkeling etc. The students on break can move out of Perth and enjoy the perks of fun and relief that WA has to offer.
Originally posted 2018-04-28 19:07:05.