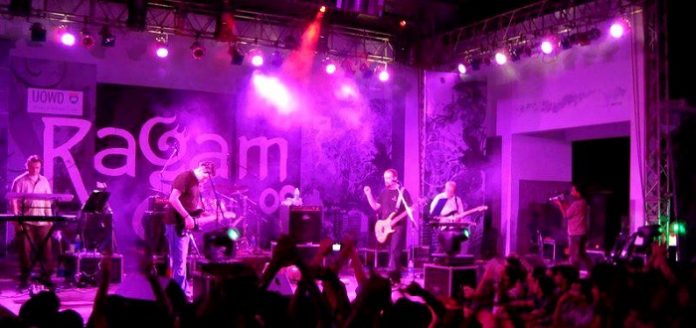 [wptab name='About']
Ragam, started in 1977, has since grown into a mega cultural festival with over 60 events, exciting workshops, numerous exhibitions and much more. Each Ragam leaves behind something, which has made it a legacy and the fest has evolved into a feeling.
About Ragam 2015: Ragam, the annual cultural fest of NIT Calicut, is one of the biggest in India bringing together talents from all over the world to One Stage. Electrifying pro-shows, thrilling events and sheer energy of the crowd make Ragam an unforgettable experience.
Ragam 2015 Event Dates & Schedule: 26th-29th March 2015[/wptab]
[wptab name='Events & Competitions']
Events at Ragam 2015: Ragam offers a spectacular inventory of over 50 events encompassing literary, musical, dance, dramatics and fine-art contests. It has carved out a unique niche for itself by conducting ingenious new competitions that truly rise up to the spirit of this fiesta. The exciting prizes at stake attract the best talent from all over the country to battle it out to raise the coveted ever-rolling trophy.[/wptab]
[wptab name='Workshops']
Coming Soon!
[/wptab]
[wptab name='Connect & Register']
Ragam 2015 social media channels: Facebook | Twitter | YouTube
Ragam 2015 Event Co-ordinators:
– Dilber Shahul | +91 9567670916 | [email protected]
– Hafiz Muhammed | +91 8089219732 | [email protected]
– Christopher Jacob | +91 9846095751 | [email protected]
How to reach NIT Calicut: Calicut, Kerala is well connected by road, rail and air. NIT Calicut campus is situated approximately 22 Km from Calicut city (Kozhikode city) on the Calicut – Kunnamangalam – Mukkam road.
Ragam 2015 website: www.ragam.org.in
[/wptab]
[end_wptabset]